Edwards - Connor can get us up
Dave Edwards has backed Terry Connor to lead Wolves straight back to the Premier League if he is given the chance.
Last Updated: 08/05/12 6:32pm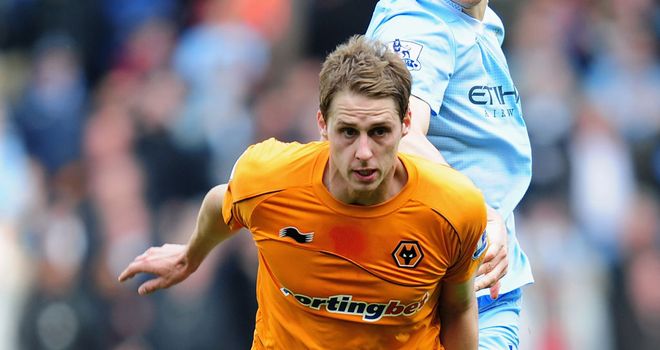 Dave Edwards has backed Terry Connor to lead Wolves straight back to the Premier League if he is given the chance.
Connor took the reins at Molineux after Mick McCarthy was sacked in February but has yet to win a single game in charge, with Wolves' relegation confirmed last month.
The interim manager is preparing for his final game at the helm against Wigan on Sunday and will then sit down with his bosses to discover if he has a future at the club.
Having joined Wolves' backroom staff in 1999, Connor is a hugely popular figure at Molineux and midfielder Edwards is convinced he has what it takes to lead the club to promotion.
"He's got my vote, that's for sure," said the Wales international. "He's a great bloke and tactically he's very good.
"But that hasn't been reflected in results and that's down to us as players. If he was given the job and we got off to a good start then I'm sure he'd get us straight back up."
Fellow midfielder Karl Henry has already argued that Connor's appointment could make players more likely to stay at Wolves in what could be a summer of upheaval following relegation.
The likes of winger Matt Jarvis and striker Steven Fletcher are likely to attract offers from Premier League clubs in the coming months, and Edwards agrees Connor's presence would be influential.
Respect
The 26-year-old added: "There will be offers for players and it's going to be hard for players who want to stay in the Premier League to remain here faced with such an offer.
"I do think if TC was the manager and you knew he was going to be here next season, if you were one of those touted to leave, then he might be able to persuade you to stay.
"He's got that about him and he's got so much respect from the players. That would be in his favour but we'll have to wait and see."
However, the mood among Wolves' fans is one of discontent following the club's relegation.
And while many point the blame at those above Connor in the hierarchy, his appointment would be a controversial one given his dismal record of four points from 12 games in charge.
"I can totally understand that because if I was a fan and I turned up on a matchday and saw the progression of results, I'd probably feel the same," said Edwards.
"But if the fans want the players' opinions on what goes on behind the scenes, then we think there's no-one who loves the club more or who works as hard for the club as TC (Connor) does."
Connor's hand would be strengthened if he could pick up a win before the end of the season and Edwards is hoping that will happen at Wigan.
End on a high
The former Shrewsbury man said: "We just need to finish on a high. I keep saying it's for TC, but we haven't given him three points yet and it would be nice if we could finish with two draws and a win to put a better mark on it for him.
"When he has his conversations with the board, it would be nice for him to have a win under his belt."
Edwards was part of the Wolves side that won the Championship title in 2009 and despite his disappointment at being relegated, he is looking forward to recapturing that success next season.
"It was such a great time in the Championship last time," he added. "As great as the Premier League has been, it would be great to replicate what we did in the Championship.
"In my eyes, I haven't had a better season in football as I did in the Championship. It was so much fun. We had that winning feeling from winning every week and we were full of goals and entertaining football.
"It's going to be tough. We know how hard that league is and it's going to be a case of putting in a lot of hard work and determination to get back to the Premier League."
And Edwards has made it clear he is not one of the players set to turn his back on Wolves.
He added: "Ideally, if I was given the chance to play a part next season, I'd be proud to lead this club back to the Premier League."