Aluko plea for Rangers answers
Rangers winger Sone Aluko believes Ally McCoist and his players need clarity as the club's takeover saga continues.
Last Updated: 09/05/12 10:07am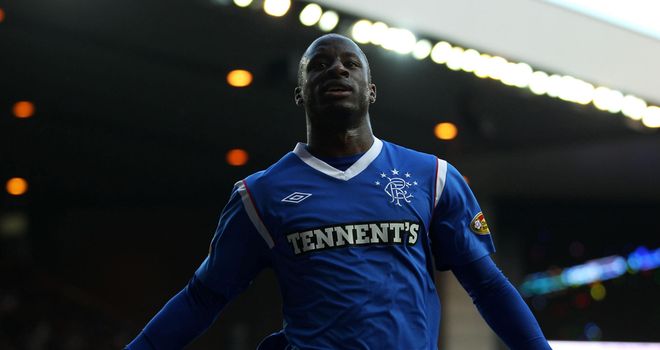 Rangers winger Sone Aluko believes Ally McCoist and his players need clarity as the club's takeover saga continues.
There appeared to be some light at the end of the tunnel when US businessman Bill Miller was named as preferred bidder last week, before sensationally withdrawing his offer to buy the administration-hit club.
Aluko, who has impressed since arriving from Aberdeen in November, realises he finds himself in the middle of a full-blown crisis at Rangers.
And the 23-year-old is in no doubt about how concerned supporters are - he has been bombarded with questions on the future of the club by thousands of worried fans.
"Rangers are a massive club," the Nigeria international told the Daily Record. "I knew how big it was before I came and after a couple of weeks here you quickly learn that everyone gets behind the team.
"There were 8,000 on the recent march at Hampden and that's a crowd not many clubs can attract for a home game.
"I have a Twitter account that attracted a couple of thousand followers before I moved to Rangers. Now I have 35,000 and the numbers are rising very quickly.
"If I had a pound for every time someone asked me what's going on I could buy the club myself but we're the last to know."
Figurehead
Aluko is happy to continue working hard for Rangers but admits the man he really feels for is manager Ally McCoist.
He said: "Ally is the one person who needs clarity most so he can prepare for the future. It has been a long few months.
"It's his first year in the job and the learning curve has been tough but he has kept the team focused.
"He has maintained squad morale and been a figurehead for fans. There is so much he has done and he handles himself really well.
"If you watch our training sessions you wouldn't think we're in this situation. There's a lot of banter and everyone is quite laidback. That's important for him to try and keep the training sessions right.
"It will be good to get things sorted out to find some clarity on the situation, as fans and players need that.
"We all need to know but I'm not the type of person who will worry myself. I'm laid back about it but still keen to get it sorted and I know the seriousness of the situation."
Rollercoaster
In terms of his own future, Aluko would be happy to stay at Rangers but believes he must do what is right for his career.
He added: "I live in an ideal world so whatever happens I will confront it and make my decision.
"When the season is over we can sit down and discuss whether I go forward with Rangers or elsewhere. You must show respect to the club you are with and talk to them first.
"It's been a rollercoaster season from start to finish. There's not a lot more I could have done about what's happened to Rangers so I just have to try and enjoy it and I've been doing that.
"I've formed an emotional attachment to the club. Even if you're not a Rangers supporter you would look at our club and see everyone has really come together - fans, players and manager.
"The fans have been great to me and I don't take that for granted. But as much as fans love you, they can turn on you as well so this summer I will try to make decisions more about my career and the objectives I want to achieve.
"Rangers are a massive club and I'm sure they will win things in future and maybe I'll be part of that.
"If I do end up leaving it will be tough to go and I will always look back with good memories. However, if I remain a Rangers player it will be because I'm happy to stay."