Grayson wants no-fear approach
Simon Grayson is urging his Huddersfield players to ignore the bigger picture and play without fear against MK Dons on Saturday.
Last Updated: 11/05/12 4:34pm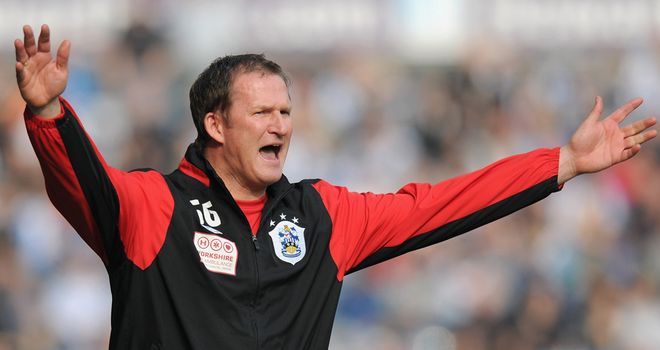 Simon Grayson is urging his Huddersfield players to ignore the bigger picture and play without fear against MK Dons on Saturday.
Huddersfield face MK Dons in Saturday's League One play-off semi-final first leg.
The Terriers are contesting promotion to the Championship through the end-of-season knockout tournament for a third consecutive season, with memories of a demoralising 3-0 defeat to Peterborough in last year's final still haunting the West Yorkshire club.
In the seven campaigns in which Huddersfield have taken part in the play-offs, they have never won a semi-final tie at home, and Grayson insists his players will treat Saturday's meeting at stadium:mk like any other game as they bid to alleviate some pressure before Tuesday's return clash.
"We need to play the game and not the occasion," Grayson said. "The build-up to the game should be no different than normal.
"You need to approach the game in the same manner as any other game.
"Individually, players don't need to be going out and trying new things and collectively you need to stick to what you are good at."
Last year, Huddersfield battled back to salvage a 4-4 aggregate draw with Bournemouth over two frantic semi-final games, progressing to Wembley after a penalty shoot-out only to crash spectacularly against the Posh.
The failed play-off campaign was the last under Lee Clark, with his replacement hoping the spectre of last summer can spur his inherited squad on to go one better.
"Players need to learn from the experiences that they have gone through before in these sorts of occasions," Grayson said.
"You can learn from successes and failures in semi-finals and it is important the players take what has gone on before on board.
"Sometimes, though, the raw naivety of players can help them grasp the opportunity, as they won't be worrying about the bigger picture."
MK Dons defender Gary MacKenzie acknowledges that Jordan Rhodes is the main threat for Huddersfield.
But MacKenzie is also aware that the man who has scored 38 goals in 43 appearances in all competitions for the Terriers this season is not the only key player for the Yorkshire club.
"Jordan Rhodes is a tricky player to play against. He is a real threat. He comes alive in the box," said MacKenzie.
"But I don't think it is all about him. It would be naive to think Jordan is the only threat, they are a better team than just one player.
"There has been a lot of talk about how to stop him, which we have done so far this season. But they are an all-round team like ourselves.
"It will be a tough afternoon for everyone involved on Saturday and as a back four we will just be looking to keep him as quiet as possible."