Petrov hopes for happy ending
Martin Petrov is refusing to contemplate relegation ahead of Bolton's vital trip to Stoke on Sunday.
Last Updated: 12/05/12 5:56pm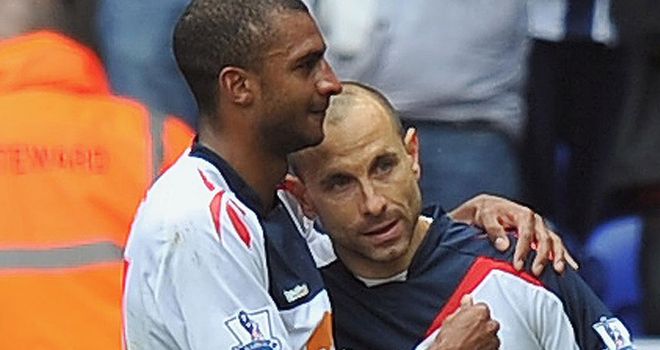 Martin Petrov is refusing to contemplate relegation ahead of Bolton's vital trip to Stoke on Sunday.
The Bulgarian admits that this season has been the worst of his career, after team-mate Fabrice Muamba suffered a cardiac arrest and his close friend Stiliyan Petrov was diagnosed with Leukaemia.
But he hopes that his on-field emotions will be at the other end of the scale at the full-time whistle at the Britannia Stadium. The Trotters need to win in the Potteries, and then hope that Manchester City beat QPR in order to maintain their Premier League status.
Worst
Speaking in the Bolton News, Petrov said: "It is the worst year in my career, especially now with what's happening to Bolton, but I hope the year will have a happy ending which is the most important thing.
"I don't want to be part of what has happened this season with Fabrice Muamba and my friend Stiliyan Petrov."
But Bolton's player of the year is fully focused on the job in hand.
He continued: "We had so many chances to go up. But we missed them. It is an extreme end to the season to decide who drops and who stays. I have not played in a game like this before.
"We have one big last chance and it doesn't matter how we play, who scores, just that we win."
Suited
Meanwhile, manager Owen Coyle believes that his side are suited to having to win the final game of the season.
Bolton have won six times away from home in the league, and Coyle is taking heart from those results.
He said: "I think if you look at Bolton Wanderers this season, you would think they were better placed to go away and win games rather than draw them, and that will be a good thing.
"I think there are only six or seven other teams in the league who have won more away games, so we know we are capable of going and winning tough games.
"There have been huge matches this season which people have tagged as must-win games and we have won them, and that is what we need to do again because they don't come any bigger than Sunday.
"We know this is the last-chance saloon."