Ramires - I'll roar on Blues
Brazilian midfielder Ramires is vowing to put aside his devastation at missing the Champions League final and cheer Chelsea to glory.
Last Updated: 12/05/12 7:08pm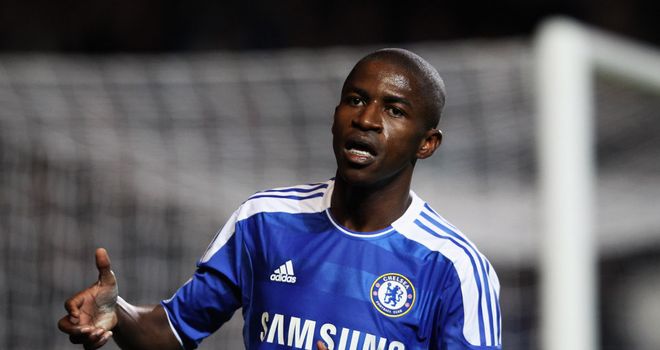 Brazilian midfielder Ramires is vowing to put aside his devastation at missing the UEFA Champions League final and cheer Chelsea to glory in Munich.
The Blues' Player's Player of the Year will miss the final, after he was booked in the Camp Nou semi-final, but he still believes he can help from the sidelines.
"I want to pass my energy to them to help them carry on," he told the Daily Telegraph. "It's going to be hard to watch the final but if it's going to depend on my vibe, my positivity then we are going to win easily. I will be the biggest fan in the world."
Nervous
But the 25-year-old admits he is not the best spectator. He continued: "Your heart is out on your hand, I cannot stand still. I feel so, so nervous. I will kick the chair, I will walk up and down.
"I can't sit down for a minute. I feel out of my mind. There's nothing I can do. But even though I feel so nervous and so agitated, the way I feel is also so positive. I want to help my team-mates out on the pitch."
And Ramires knows just how important victory in the Allianz Arena is to the club he joined two years ago.
"We don't have any choice but to win the Champions League. It's not just about winning the cup itself, it's about saving our next season," he said.
"We want to finish this season the best way we can. We have to salvage it because to not be in the Champions League will be unbearable."
The fact that Ramires will miss the showpiece in Germany is particularly cruel, after he played such a pivotal role in getting the Blues to their second final.
It was Ramires who set up Drogba's winner at Stamford Bridge, before netting the crucial first away goal in the Camp Nou to give his side hope.
Gift
"It was like a cold shower on Barcelona," Ramires continued. "I feel like I was given this gift to score that goal.
"It was amazing for me, but it wasn't just my doing. I was lucky enough to score it but it was a team goal. We had owned the first game, and yet everyone was saying 'Chelsea are not going to do it'. But, at that moment, as players, we wanted it so much."
But his memories of this season's campaign will be forever tainted by events in the dressing room as he celebrated the victory with his team-mates.
"To be honest, I didn't realise," Ramires said of his suspension. "We were celebrating and someone came up to me and said 'there's a yellow next to your name, it means you are not playing'. All I could say was 'oh, no', but I was much happier that we had got through to the final."