McAuley - Roy adds extra
West Brom defender Gareth McAuley believes Roy Hodgson can get that ¿extra percent¿ out of the England squad.
Last Updated: 13/05/12 12:45pm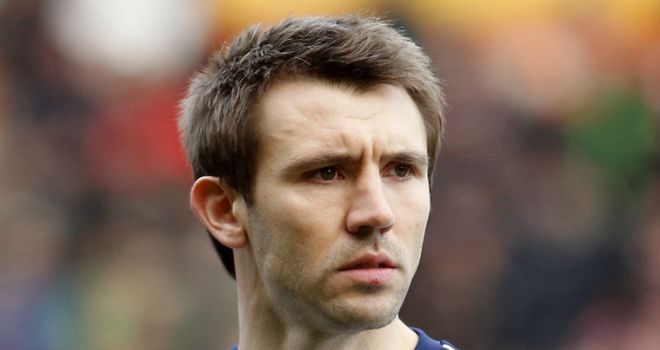 West Brom defender Gareth McAuley believes Roy Hodgson can get that 'extra percent' out of the England squad.
Centre-back McAuley's is speaking from experience after insisting the new England head coach has improved him as a player.
He has experienced his first taste of Premier League football this season at the age of 31 following his summer move from Ipswich and believes Hodgson has had a big impact on him.
The Northern Ireland international said: "I've learned so much from Roy Hodgson. There are a few lads I know at Fulham and they all still talk about him. They've learned a lot from him as well.
"I knew that when I came here I was going to improve as a player under him and that it was all about grasping that opportunity.
"The knowledge he has, the tactical side and the positional side that you learn from his training sessions is second to none really.
"It really opens your eyes to the game in a different way that you might have seen before."
McAuley added: "In terms of man management, Roy has got no problems in that aspect at all. Everything is very cool with him. If there are things that need to be said, he will say it.
"He deals with everyone individually. He comes out in the morning and gives us a handshake so everyone feels part of things. He's very much a group and team manager.
Honest opinion
"He may not be playing the media in his press conferences but anytime he talks about his team or another team, it's always an honest opinion and a true reflection of what he sees.
"He gets that extra percent out of teams and I think he can do that with England too.
"I don't really know any (of the players) but they will be buying into what he is saying straight away.
"It will only take a short period of time for him to get his ideas across. I think they can be very successful."
McAuley is targeting victory over Arsenal on Sunday to ensure the Baggies finish in the top half of the Premier League and send Hodgson out on a high.
He said: "That would be fantastic and another step forward with the plans the club has to establish themselves in the Premier League.
"We want to reach the 47 points which the lads got last season. We're looking to better that so we need to get a result on Sunday.
"We are also looking for another clean sheet. It's little things like that, little individual things that we are striving for, towards the last game.
"We've got a full house on Sunday and they will be right behind us. We would like to get a result for Roy and it would be a massive thing for us as well.
"It's a team going for the Champions League places so they are going to be quality. They will come at us and they will have to try and win it. We will certainly make it very difficult for them."