Schweinsteiger wary of Lamps
Bastian Schweinsteiger has spoken of his respect for Frank Lampard but warned that Chelsea will find it difficult to win the Champions League final.
Last Updated: 16/05/12 3:05pm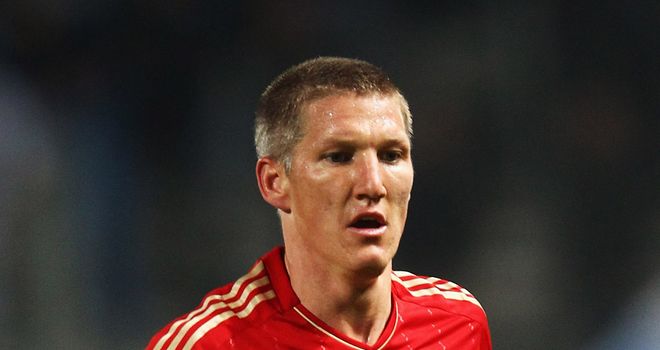 Bayern Munich midfielder Bastian Schweinsteiger has spoken of his respect for Frank Lampard but warned that Chelsea will find it difficult to win Saturday's UEFA Champions League final, especially if it goes to penalties.
Lampard has returned to favour since Roberto Di Matteo replaced Andre Villas-Boas as manager and is set to be included in the starting XI at the Allianz Arena.
Schweinsteiger regards Lampard as an extremely tough opponent and feels he should not only be a key man for Chelsea but also a regular starter for England, where his place has come under threat in recent times.
"It is very possible that Lampard and I will be in direct confrontation with each other on the pitch," said the 27-year-old in the Daily Express.
"I have huge respect for him. Everything he does in the game has an effective use, it's always thought through. He's similar to Xabi Alonso in that he plays with his eyes.
"Certainly, in my opinion, it would be a mistake for England not to use him at the Euros, because if you get to the Champions League final you can help the team through the Euros.
"Remember in 2010, if his goal had counted, what an effect he would have had for England. In my eyes, playing him with Steven Gerrard, it would be two players who complement each other very well."
Character
Lampard's effort in the World Cup quarter-final was famously not given as a goal despite clearly crossing the line and England slumped to a 4-1 defeat, and that sort of capitulation is something that Schweinsteiger says would never happen in a German team.
"We Germans never give up, we fight to the last," he said.
"We just have that mentality. We give full effort, but we also have a playing quality. We have other attributes than character."
Schweinsteiger believes Bayern would have to be considered favourites if the Champions League final goes the distance, as he agrees that 'Football is a game played between two sides of 11 players over 90 minutes and then afterwards the Germans win on penalties'.
"I know the saying," he said. "Unfortunately it is true. It is not easy to win a penalty shoot-out against a German team."
Chelsea agonisingly missed out on penalties against Manchester United in the 2008 final and Schweinsteiger knows they will be determined to finally land the trophy.
He said: "Those players who were in Moscow for the final will have the extra motivation, such as Lampard, Didier Drogba, Ashley Cole and Michael Essien.
"They will be the most dangerous, they know maybe it is their last chance to win the title they lost there."