Spain keen to make history
Spain coach Vicente del Bosque is keen to make history and become the first team to win back-to-back European Championships.
Last Updated: 16/05/12 5:54pm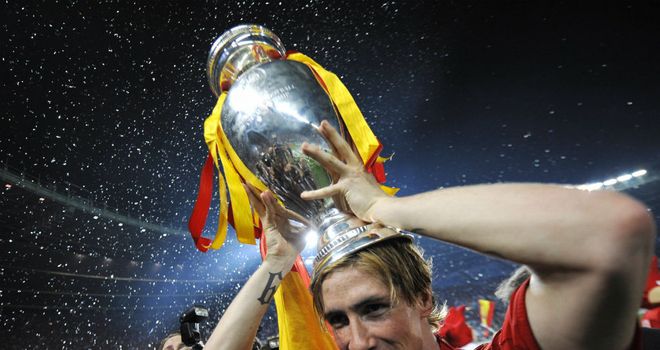 Spain coach Vicente del Bosque admits he is desperate to make history and become the first team to win back-to-back European Championships.
The 2008 winners are also aiming to become the first European side to win three major competitions in a row, after claiming the World Cup in 2010.
Many of the players that competed in the 2008 final against Germany are still in the side, including Xavi, Andres Iniesta, Cesc Fabregas and Iker Casillas.
Spain open their Euro 2012 campaign against Italy on June 10, before taking on the Republic of Ireland and Croatia in their other two fixtures.
Del Bosque, who took over after the European Championships in 2008, is not concerned about being the favourites for the title.
Unprecedented
He said: "We face an unprecedented challenge, a win after a win after a win, and we want to make history.
"We are favourites but we should not think about it. We have an obligation to defend our title, it will be difficult but we will face the challenge head-on."
Spain suffered few problems in their qualification for the competition, having won all eight games, scoring 26 goals and conceding just six.
Xavi, who has won over 100 caps for his country, believes Spain are still at the top of their game and is happy to live up to the hype.
History
He said: "We hope to win more trophies and continue making history. We think that we have a great opportunity with this generation of players.
"The entire world is going to be watching the team and there is a certain amount of pressure, but this is good.
"After winning the European Championships and World Cup we are a team at peace and we can compete with calm."
Meanwhile, goalkeeper Iker Casillas, who has also racked up over 100 caps, believes his side need to deal with the pressure of being the European Champions for the first time.
He said: "Spain can win it again, but the problem is we aren't going in like we did four years ago.
"Then there were some expectations, but we weren't favourites and now we are the world champions.
"We need to be prudent and cautious because all the teams will be out to give it everything."