Evra - Most difficult season
Patrice Evra has lifted the lid on what he describes as the most difficult season of his career following his clashes with Luis Suarez.
Last Updated: 16/05/12 9:53pm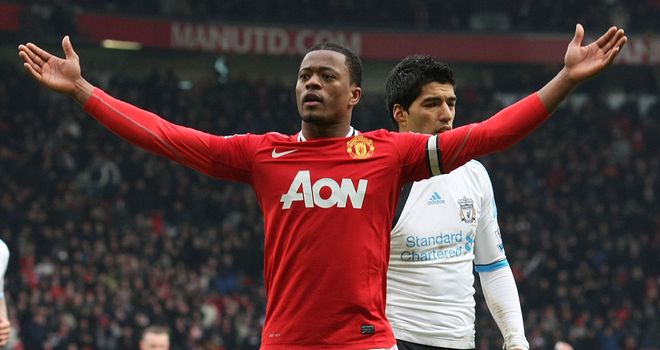 Patrice Evra has lifted the lid on what he describes as the most difficult season of his entire career following his clashes with Luis Suarez.
The Manchester United defender has remained silent over the entire Suarez affair since he first raised allegations of racism against the Liverpool forward at Anfield in October, with the Uruguay international eventually hit by an eight-match ban and a £40,000 fine by the FA.
However, his continued protestations of innocence and the manner with which the entire situation was handled by Liverpool drew widespread criticism, which turned to anger when Suarez opted not to shake Evra's hand when the two sides met again in the reverse fixture in February.
Evra admitted he was so furious he could easily have been sent off for his first tackle, which ended up toppling team-mate Rio Ferdinand, and has explained his over-the-top celebrations at the final whistle.
Most pressure
"The whole thing was so difficult," he said. "People thought my celebration at the end of the Liverpool game was because Suarez had abused me, but it was more than that.
"I wanted say thanks to my team-mates. I know everybody was playing to win for Manchester United, but it was also a little bit for me.
"That game was the most pressure I've ever felt in my life - and all to do with shaking his hand.
"It was very difficult to decide what to do before the game. Many people would never try to shake his hand. But I tried and he refused.
"For me, it was like, "What's going on?" You see the first tackle, a tackle on Rio Ferdinand?
"If it was Suarez then I could have had a red card straight away and I'd have been off the pitch."
It would be fair to stay that the period around those initial racism allegations was hugely traumatic for Evra as only a week later came a telephone call that stopped him completely in his tracks, the death of his 42-year-old brother.
Really tough
"What's happened to me this year, personal things, have been really tough," said Evra.
"I know people will think I'm only saying this because we've lost the title but this is the most difficult season I've ever had for Manchester United.
"Before the game against Manchester City in October my dad called to tell me I'd just lost my brother. Nothing can be more difficult than that to find out before a big game.
"When you add the Suarez case as well, I am very proud of myself. I've been stronger mentally than ever before. To keep going and to play every game is just amazing.
"I know that's not the way a Manchester United player should talk when you don't win the league. It sounds like I'm finding an excuse. But it's the truth.
"I don't want to lie to people. This year has been so difficult."