Lahm stunned by Terry actions
Philipp Lahm says he would never allow himself to commit an offence like the one that has cost John Terry his place in Saturday's final.
Last Updated: 17/05/12 8:13am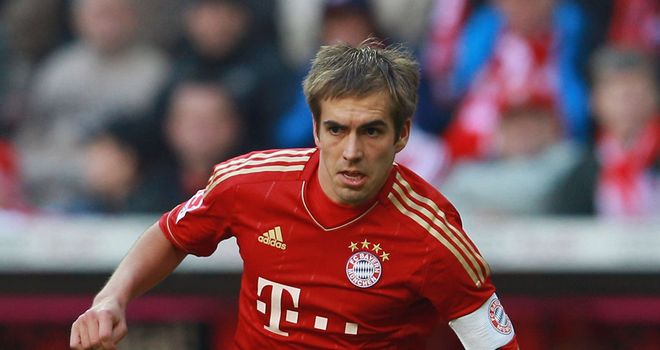 Bayern Munich captain Philipp Lahm insists he would never allow himself to commit an offence like the one that has cost Chelsea counterpart John Terry his place in the UEFA Champions League final.
Terry is suspended for the Allianz Arena decider on Saturday after he earned a straight red card for kneeing Barcelona's Alexis Sanchez in the back in the second leg of Chelsea's semi-final at Camp Nou.
Germany defender Lahm says he will never find himself in a similar situation because, as captain, he would not put his team's chances at risk.
"I couldn't believe it. I was so surprised, not by the red card but what he did to earn it," he said ahead of this weekend's decider.
"Would I describe it as irresponsible? Let's just say I would never have done something like that. It simply wouldn't have happened to me. Why? Because as captain, I do everything for my team. That would have harmed them and I would not allow that to happen.
"But that's down to him. Our only focus is on winning and we are not too interested in who might be playing for Chelsea or who might not be."
The Bayern defender does not feel Terry's absence will give his side the edge in Saturday's final, with several key players also suspended for the German club.
No advantage
He added: "I wouldn't say it is an advantage for us that Chelsea will be without their captain. I think the players who are missing from both sides will even themselves out.
"We are missing players who have been key to us reaching the final, like Holger Badstuber, Luiz Gustavo and David Alaba, so we have suffered as well."
Munich-born Lahm says it is inconceivable that his side will lose the decider on home soil.
"Lose it in my house? That would be awful for all of us, but me in particular," he said.
"I'm from Munich. I was born here in this town. As well as a Bayern player, I am a supporter and I know what it means to everyone connected with the club.
"I would have to think about locking myself away if it wasn't for the fact that the national squad fly out to the European Championship straight after the final. Thank goodness for that. But I'm confident I wouldn't have that problem, anyway. We are only thinking about winning."