Becks - Pick me on merit
David Beckham wants to be picked for Team GB based on his ability to play football rather than sell shirts.
Last Updated: 18/05/12 3:01pm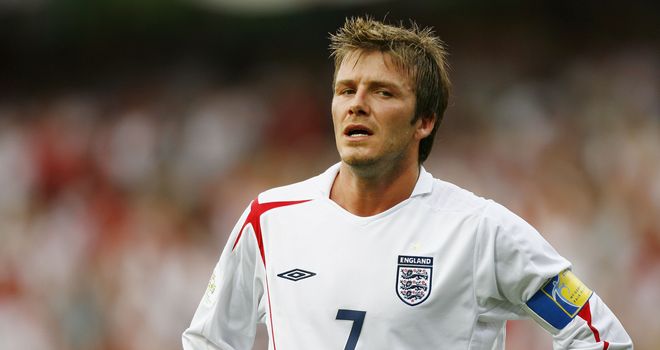 David Beckham says he wants to be selected for Team GB based on his ability to play football rather than sell shirts.
The 37-year-old LA Galaxy star and former England skipper was a key member of London's winning bid to host the 2012 Olympic Games and he has always made it clear he wants to compete this summer.
But he believes suggestions that he will be included in Stuart Pearce's squad because of glamour, newspaper sales or because he is a bigger commercial hitter are 'a bit disrespectful'.
"Any time I have been asked about shirt sales and filling stadiums, I've never said it is disrespectful but it's the kind of question I have felt is," he said.
Beckham is proud of his career, proud of being part of the London bid and insists he would be proud to play at the Olympics.
He said: "Throughout my career I've been pretty successful. I've played for some pretty big teams. I've played for my country quite a few times and for managers without sentiment.
"That's one of the things when you play for Sir Alex Ferguson, Fabio Capello and Sven Goran Eriksson, the managers I have played under - they don't pick players because they want to fill a stadium with people or to sell shirts.
No retirement
"I'm very proud of the fact and I have always found it an honour that people want to buy my shirt, that fans turn up to watch the team I am playing in or to see myself. I've always found that a huge honour.
"No, I don't want to be picked on a shirt sale or a stadium filler. I want to be picked because of what I can bring to the team. It's a thing that has happened all the way through my career and I don't want that to change."
Speaking in Athens after he took part in the official handover of the Olympic Flame to London, Beckham declared that he had no plans to ever make himself unavailable for England.
He said: "Everybody knows that I love representing my country.
"I have done that for quite a few years with the national team - 115 times - and I am very proud of that.
"It is one of the reasons I said I would probably not retire from the England team. I always want to be available - whether I get picked or not is a different story.
"I am very proud of my achievements for my country. I have not taken part in an Olympic Games but I would love to be part of the team.
"Fitness has never been a problem all the way through my career. If I am selected I would be in good condition."
Beckham added: "Experience will be important because, when you have a team of young kids coming together for the Olympics for a short period of time, it is important to have that experience in there."
Thompson and Redgrave
Sebastian Coe, London 2012 chairman, has insisted that Beckham will have to earn his place in the squad.
"We have put no pressure on Stuart Pearce at all," said Coe.
"He has to pick the team he thinks can lift the trophy."
Coe added: "Obviously having David around the Olympic programme is a fantastic thing but we wouldn't expect a recall for Daley Thompson or Steve Redgrave just because they are involved [in the build-up]."