Cahill and Luiz hope for Blues
Chelsea are 'very hopeful' Gary Cahill and David Luiz will be fit to face Bayern Munich in Saturday's Champions League final.
Last Updated: 19/05/12 9:03am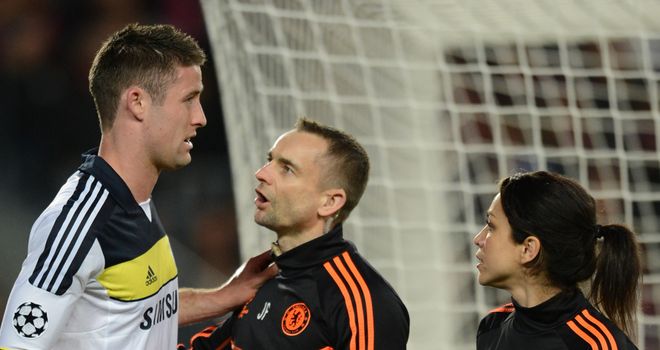 Chelsea are 'very hopeful' Gary Cahill and David Luiz will be fit to face Bayern Munich in Saturday's UEFA Champions League final.
Interim first-team coach Roberto Di Matteo is understandably desperate to have the two centre-backs available at the Allianz Arena given the respective suspension-enforced absences of captain John Terry and Branislav Ivanovic.
Cahill has not played since hobbling off with the hamstring injury sustained in the first half of the epic semi-final second leg against Barcelona at Camp Nou on 24th April.
Luiz has been sidelined for an even longer period after having to be substituted in the second half of Chelsea's FA Cup semi-final win over Tottenham on 15th April due to a hamstring problem.
But both players have been training over the past week, while Florent Malouda, another hamstring injury victim, also joined the Chelsea squad on Friday afternoon.
Di Matteo said at his final media conference ahead of the final: "Cahill and Luiz trained all week, so we are very hopeful."
Chelsea have brought two players from their B-list, Nathaniel Chalobah and Todd Kane, in order have cover in their squad and Di Matteo will decide his team on Friday night.
Calm
"I will wait until the last session tonight to see and reassess all my players," he said. "Then, tonight, I will make my final decisions about the team selection."
The final at the Allianz Arena could be Di Matteo's last game in charge of Chelsea, with reports suggesting former England manager Fabio Capello has been lined up.
Conversely, if the Premier League club defeat Bayern at the German team's home stadium, the Italian could take the job, for which he was temporarily appointed when Andre Villas-Boas was sacked in March, on a full-time basis.
But he is keeping a calm exterior, as he said when asked if Chelsea can win the Champions League: "Yes. I don't know what the future will hold, but we can win it and we have to have the confidence and belief to do so.
"I think the players deserve it. The players have done tremendously well and the whole club, and the supporters, would deserve it.
"I do believe our players have all the qualities you need to win this competition. Those qualities have taken us to this event here and I am very positive and very confident."
Bayern, though, will provide daunting opposition, irrespective of their 5-2 defeat by Borussia Dortmund in the German cup final last the weekend.
Highly motivated
Di Matteo said: "They have the best defence in the league, you can't just take one game to summarise Bayern. They've had a very good season and our approach has to be the correct one for ourselves to be able to beat them.
"They are playing in their stadium so they know the environment, pitch, dressing room. Our players are highly motivated and will be positive. We will try to make the best of the game tomorrow and try to win it.
"I think there are suspended players on both teams and if you make it to a final then you have two good teams. Bayern Munich has great players and strengths we are aware of, and are playing at home which could be a slight advantage for them, but we have excellent players on our team and I think we have just the same chances as Bayern."
Raul Meireles and Ramires join Ivanovic and Terry on Chelsea's suspended list and, in the absence of the latter, England international Frank Lampard is expected to captain his club.
"Frank has been amazing," said Di Matteo. "He has risen to the occasion when we needed him. In the Camp Nou, he was outstanding, he led the group, and he is a natural leader.
"You might not always look at him like that, but when you need him, the man is there. He is a proper man."