Mikel wants Di Matteo appointment
John Obi Mikel has added his voice to the growing number of calls for Roberto Di Matteo to be appointed full-time manager at Chelsea.
By Tom Mallows
Last Updated: 21/05/12 11:06am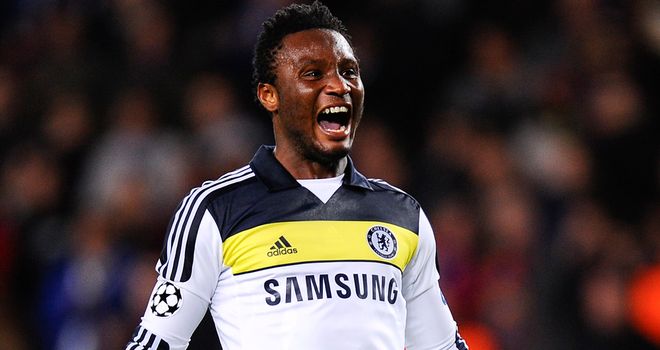 Chelsea midfielder John Obi Mikel has added his voice to the growing number of calls for Roberto Di Matteo to be appointed full-time manager at Stamford Bridge.
The Italian took the role on an interim basis at the start of March, replacing the sacked Andre Villas-Boas.
The former Blues midfielder has since guided the club to FA Cup success at Wembley earlier this month before overseeing their dramatic penalty shoot-out win over Bayern Munich in the Champions League final on Saturday.
Chelsea chairman Bruce Buck revealed on Sunday that Di Matteo was 'in the mix' for the permanent position, but stressed that the club would not be rushed into an appointment.
Nigeria midfielder Mikel is full of praise for the impact Di Matteo has had on the club in his short spell in charge and revealed he hopes he is awarded the job permanently.
"I would like to see him get the job," said the 25-year-old.
"When he took over, he had a word with me and said he knows how good I am, I am just maybe lacking a bit of confidence. And he gave it back to me.
Right decision
"But, at the end of the day, the club will make the right decision."
Mikel also revealed his role in Arjen Robben's extra-time penalty miss at the Allianz Arena on Saturday.
The former Chelsea winger had the chance to put Bayern back in front from the spot after Didier Drogba had tripped Frank Ribery in the area just minutes into the first half of extra-time.
However, after a short delay Robben eventually saw his effort saved by Chelsea goalkeeper Petr Cech.
Mikel revealed that in the build-up to the penalty kick he had indulged in some mind-games with Robben to try and put him off.
"I told him, 'Petr Cech knows where you are going to kick it'," he added.
"I just told Robben that he is going to miss it. You know, we just do that sometimes as players.
Believed
"I think when the penalty was missed, we kind of believed that this trophy was going to be ours."
The victory was the conclusion of a nine-year quest by Blues owner Roman Abramovich to turn his expensively assembled side into European champions.
The Russian oligarch has longed for the Champions League trophy more than any other and Mikel admits he had made the players aware of his expectations before kick-off.
"The owner has made it clear to us that this trophy is the trophy he wants to win," he said. "And now that we have done that, I think that he is a very, very happy man.
"We have shown what we can do. And, hopefully, people can stop writing us off.
"I think we have made names for ourselves - we are the first club to win this trophy from London. I think it is just fantastic, it is amazing."