Monk aims high
Swansea defender Garry Monk believes 'the sky's the limit' for the club under manager Brendan Rodgers.
Last Updated: 21/05/12 10:14am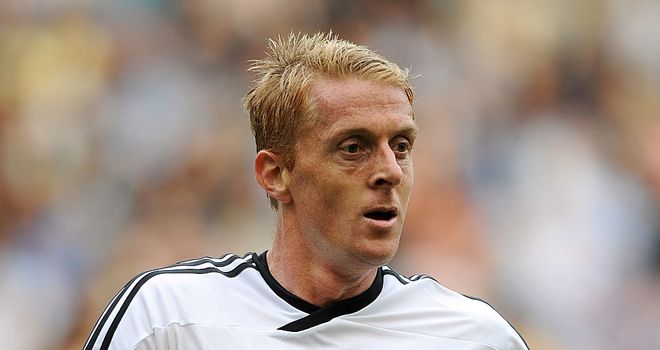 Swansea defender Garry Monk believes 'the sky's the limit' for the club under manager Brendan Rodgers.
The high-flying Swans enjoyed a fine debut Premier League season, finishing the campaign in 11th place and earning plenty of plaudits for their attractive style of play.
Much of the credit for their success this year is placed at the door of boss Rodgers, who has emerged as one of the division's brightest young managerial talents.
The 39-year-old's impact at the Liberty Stadium has not gone unnoticed by opposition clubs and Premier League rivals Liverpool made an official approach last week to talk to Rodgers about their vacant managerial position.
That request was granted by the club but Rodgers turned down the opportunity to speak to the Merseysiders, much to the delight of the Swansea fans and players.
With the former Watford and Reading boss still at the helm Monk, who joined the Swans in 2004 when they were in League Two, believes the only way is up.
"I can only see progression for this team and this club," Monk told the South Wales Evening Post. "The sky's the limit with the manager we have.
New level
"This was a new level for all of us so we didn't quite know what to expect. But we got stronger and stronger and improved from the team we were at the start of the season.
"The infrastructure at the club needs to be improved in terms of training facilities, but if that comes, with the players you can attract with those sort of things, I can only see the team improving.
"It's just a case of progressing as we have been, one step at a time."
Despite their achievements this season Monk is also realistic and concedes that the club cannot afford to rest on their laurels this summer.
The 33-year-old knows that summer signings will be needed if they are to thrive in the top flight again next season.
Bargain
"We need that quality," he added. "The gaffer recognises that and I think the chairman and the board recognise that.
"We're not a club who can spend millions and millions on players, but if we can find the right bargain, I'm sure we'll be the first trying to get them.
"I'm sure the gaffer and the board have got targets for the summer.
"We're not an established team in the Premier League yet, we need to do that over the next three or four seasons. If we can do that, keep playing the way we play and add some quality, we can achieve anything."