Mulgrew - Maloney can shine
Celtic defender Charlie Mulgrew has backed Shaun Maloney to bring his Wigan form to the Scotland team.
Last Updated: 21/05/12 7:44pm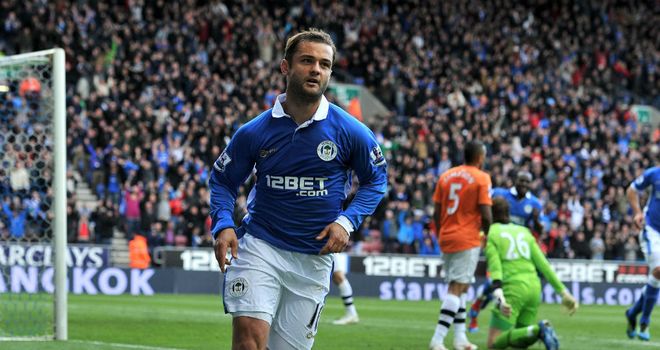 Celtic defender Charlie Mulgrew has backed Shaun Maloney to bring his Wigan form to the Scotland team.
Maloney was instrumental in the Latics' successful fight for survival in the Premier League, with his displays earning him a recall to Craig Levein's squad for this weekend's friendly against the United States in Florida.
Maloney's last appearance for the national team was against the Faroe Islands back in November 2010 and Mulgrew believes his old Celtic team-mate has plenty more to offer the Scots.
He said: "Shaun is a top player and a top professional so it was no surprise to me to see him doing so well down there.
"I'll speak to him about it when he comes over but there was no surprises there.
"Of course he can make an impact here - he is a top quality player.
"We have seen him do it in the Premier League at the highest level so I'm sure he can make an impact for Scotland."
Second cap
Mulgrew is hoping to earn only his second cap after making his international bow in the last outing against Slovenia in February.
Asked if he feels he now needs to make up for lost time, the 26-year-old said: "Not really. I'm just trying to enjoy it.
"I've always wanted to play for Scotland and I just want to do my best and hopefully I can bring something to the team.
"This is the second time I've been called up so hopefully I can play in the game and do well.
"With every trip, you are looking to do better and better and hopefully stay in the manager's plans.
"Hopefully I can do that on this trip and see what happens."
Mulgrew is keen to make a positive impact ahead of the World Cup qualifiers in September.
He added: "It would be great to be involved in those games.
Desperate
"I've watched a lot of them on TV and I've always been desperate to be involved.
"Hopefully I can be involved in this one and then just take it one game at a time."
The clash with the USA may have come at the end of a long, hard season but Mulgrew says it is a challenge everyone is relishing.
He said: "Everybody is up for it. It doesn't matter when it comes around.
"To play for your national team, you've got to be ready for it and you've got to be up for it.
"There is always a sense of pride in pulling on the Scotland jersey and I'm sure all the boys feel the same and that's why everybody is here because they are all looking forward to it.
"To play for your country is a great opportunity."