Doyle dreaming of Euro glory
Striker Kevin Doyle has revealed Giovanni Trapattoni has challenged Republic of Ireland's players to 'do a Greece' at Euro 2012.
Last Updated: 21/05/12 10:54pm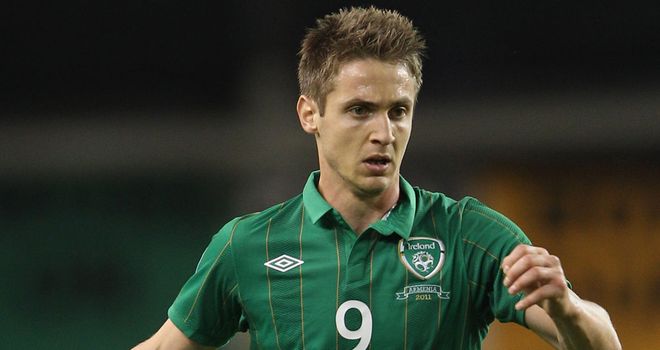 Striker Kevin Doyle has revealed Giovanni Trapattoni has challenged Republic of Ireland's players to 'do a Greece' at Euro 2012.
The odds are stacked against Trapattoni's team as they have been drawn in a group which also includes Spain, Italy and Croatia.
But Doyle and his team-mates are being repeatedly reminded of Greece's sensational upset win under another veteran Otto Rehhagel in 2004.
Doyle said: "If you are in it, you have a chance. I don't think it's madness.
"The manager has used the example plenty of times of Greece. But the toughest part really is getting out of our group because it's so difficult.
"But it shows whenever we play the big teams, we compete and do well in these tournaments.
"We seem to get out of the group stages - the quarter-final in 1990 and the World Cup in 1994, we got through the group, and the (2002) World Cup, we got through the group, so we have a good history when we have been involved in the Euros or World Cups.
"We have all seen Irish teams do well in World Cups, so hopefully that will rub off on us."
Doyle, who is set to lead the line alongside skipper Robbie Keane this summer, believes the Republic have shown in the recent past they are not to be underestimated.
Succumbed
Italy failed to beat them home or away in the last World Cup qualifying campaign, and succumbed 2-0 in a friendly in the Belgian city of Liege last summer.
For that reason, the 28-year-old does not expect any of their Group C opponents will take them lightly.
The striker said: "I hope not - Italy won't, I am sure, because they have experienced it three times in the last few years.
"Last summer was a great result for us and they will know what to expect.
"Our manager, I think, gets that little bit more excited when we are playing Italy than normal as well.
"He will know them inside-out and we will be prepared. They are a good team, Croatia, Spain - it's going to be very difficult, we are not stupid.
"But I am sure they are not thinking it is going to be anything but difficult against us as well."
Doyle joined up with the squad on Sunday having had some time to come to terms with his disappointment at Wolves' relegation from the Premier League.
Release
He and club-mates Stephen Ward, Kevin Foley and Stephen Hunt could be forgiven for feeling down in the dumps, but the former Reading forward claims the emotion is very different.
He added: "The opposite. It's a release. It's great to have this at the end of a very tough season, to be able to finish on a high note, hopefully.
"There are four of us from Wolves in the squad and we have all said the same thing. We have had a reason to keep going the last couple of months to make sure we were right for this.
"A few of the Wolves lads were jealous. It has been such a tough season, and they had to go off and try to forget about it.
"We have got this to be excited about and to have something really brilliant to look forward to.
"It's kept us going, definitely. I am really looking forward to it now."
Doyle will return to his club after the finals to start work with a new manager in the shape of Norwegian Stale Solbakken, and that too is a challenge he will relish.
He said: "I am excited. He had a season like us last year, but apart from that, he has been very successful.
"Stephen Kelly and Damien Duff play with (Brede) Hangeland at Fulham, and he played under him and he told them he is very, very good.
"I think we have done well to get him."