Hegarty waiting on Rangers
Chris Hegarty has no plans to look for a new club when his contract expires next week and will wait for the situation at Rangers to become clearer.
Last Updated: 22/05/12 5:54pm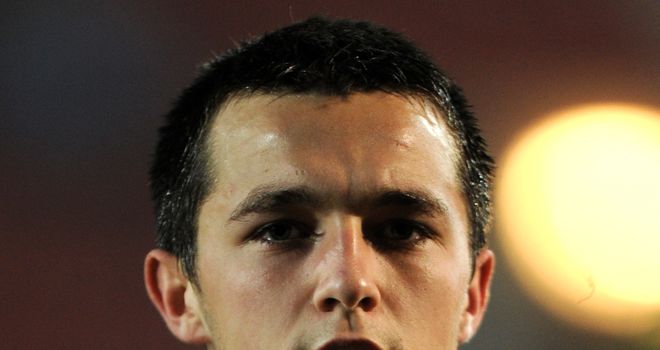 Rangers defender Chris Hegarty has no plans to look for a new club when his contract expires next week and will wait for the club's situation to become clearer.
Administration-hit Rangers are not in a position to offer the Northern Ireland Under-21 international a new contract with a Company Voluntary Arrangement (CVA) proposal still to go out to creditors.
Hegarty, who turns 20 in August, has spent two years at Ibrox after being released by Millwall and tasted first-team action in a friendly against Linfield earlier this month.
And, with Rangers facing a 12-month transfer embargo, the teenager is keen to bide his time and make his mark in Ally McCoist's team.
Hegarty said: "I'm not in an ideal situation, I'm about a week away from my contract running out. But I think I owe it to the club just to wait and see what's happening.
"I sat down with my agent and we both agreed that the club has got bigger things to think about than me at the minute.
Living the dream
"So I'm just going to wait about and see what happens but I'm positive I'll be here next season.
"They will hopefully offer me a contract in June and back-pay me or whatever. I don't know what happens."
With McCoist's top players able to leave for cut-price fees from 1st June and all players potentially free to go if Rangers re-emerge as a new company, Hegarty could find himself thrust into first-team action next season.
He lined up at centre-back alongside Ross Perry and Kirk Broadfoot in the win over Linfield.
"Running out at Windsor Park is something you want to do as a kid from Northern Ireland but doing it in a Rangers shirt is living the dream," he said. "I'm really positive going forward to next season.
"I've been in and around the team. I've got half a sniff and I want more next year. If you're good enough, you are old enough. All the lads have shown what they can do.
Positive
"For me and the likes of Andy Mitchell and Lewis MacLeod coming through, we are all positive about getting a run-out next season. There are four or five of us ready to go in.
"The coaching staff keep us all level-headed and get us up for the games. You can't sit about and hope for your chance, you have just got to take it. They get you ready for the game.
"I don't think any of the lads will freeze. All the guys who have gone in, the likes of Rhys (McCabe), Jamie Ness, Andy Little, they have all done their job on the pitch."
However, Hegarty does not expect a mass exodus of experienced players despite the uncertainty over the club's future.
"Everyone is together," he said. "We have been together for the last six months, it was probably the hardest time any player could imagine.
"I think all of them will want to stay but it's not for me to say, it's up to them."