Kalou and Bosingwa face exit
Chelsea are set to announce that neither Salomon Kalou nor Jose Bosingwa will be retained by the club next season.
Last Updated: 24/05/12 9:14am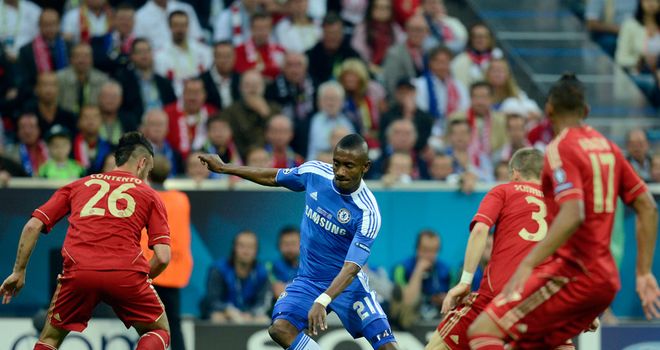 Chelsea are set to announce that neither Salomon Kalou nor Jose Bosingwa will be retained by the club next season.
Both men started for Chelsea in their UEFA Champions League final triumph over Bayern Munich on Saturday.
But their names will be omitted from the retained list of players submitted on Thursday, along with star striker Didier Drogba who has already announced he will be leaving Stamford Bridge.
Ivory Coast international Kalou was signed from Feyenoord in 2006 by Jose Mourinho and the 26-year-old has featured regularly as a squad player.
Bosingwa was signed from Porto following his performances for Portugal at Euro 2008 after his then-national coach Luiz Felipe Scolari took charge of the club
But the Blues have elected not to take up their one-year option to extend the contract of the 29-year-old full-back.
Michael Essien, Florent Malouda and Paulo Ferreira are all believed to be likely to follow Kalou and Bosingwa out of the door.
Chelsea chief executive Ron Gourlay admits there will be players leave the club and claims the club has a number of new signings they are targeting.
New faces
But he would not confirm whether that includes Lille midfielder Eden Hazard, who is also being chased by Manchester United and Manchester City.
Gourlay said: "Will you see some new faces? Yes, you will - and you may see a couple of faces go. But that's just normal end of the season practice.
"There are a number of targets out there and I'm not going to say whether he is one of not.
"We will identify the targets...and will make every effort possible to make sure they come to Chelsea.
"Hopefully if anyone wants to go to a club and win championships and medals then we have demonstrated we can do that and have done that in the past and we have every intention of continuing along those lines in the future.
"If you remember at the end of last season I said I would not get into player bartering with any other club domestically. And that's still the view because you can't.
"At the end of the day we have financial fair play and other football clubs are in the same situation as us.
"You have to meet certain criteria and while it differs for some European clubs on the basis of how they generate their revenues, certainly the domestic teams are all audited the same way.
"We know what the challenges are - we will have a valuation on a player and if we can't make that work we will drop out."