Gerrard eyes England success
England captain Steven Gerrard intends to keep playing until the 2014 World Cup and is targeting a surprise tilt at glory this summer.
Last Updated: 24/05/12 10:23am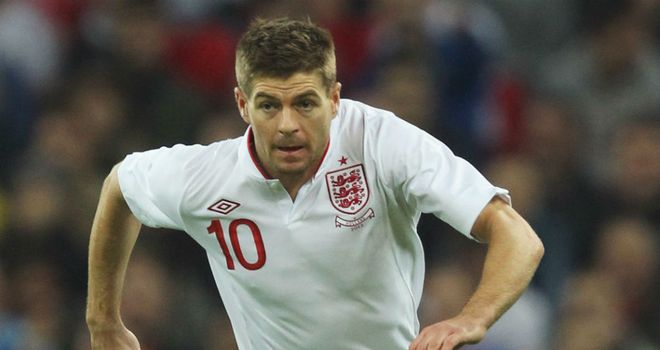 England captain Steven Gerrard intends to keep playing until the 2014 World Cup and is targeting a surprise tilt at glory this summer.
The Liverpool skipper has been handed the England armband for the European Championship by new boss Roy Hodgson and envisages continuing in the role as long as he is wanted.
"I can understand that at my age people are going to start questioning me and asking me if I'm going to quit England and focus on Liverpool, but I don't see it like that," Gerrard told the Daily Mirror.
"I don't think I have a decision to make. I love playing for England, I love playing for Liverpool. I'm a proud captain of Liverpool and I'm going to be just as proud to captain England.
"For me, what's important is that I have coaches and managers who know me and know my body.
"So I think it's going to be a case of let's see how I perform in this tournament. Let's see if first and foremost I have a future with this manager if he's keen for me to stay about.
"If the manager says to me at the start of next season that he thinks I did well in the tournament, that he wants me to stick about, that he can protect me, not overuse me and that I have a big part to play, I'm sure I will carry on.
"If the England manager says to me that he wants me to stay around for Brazil, that would be a nice carrot on the end of the string for me. That would be a good tournament for me to bow out at, but there are a lot of things to consider.
"The way I look at it at the moment is my body is in the best shape it's been in for many years. My groin problems are all behind me and I feel strong."
Big picture
The 31-year-old midfielder has worked with Hodgson before during the manager's ill-fated spell in charge of Liverpool last season.
But Gerrard does not believe the England boss should be judged on his time at Anfield.
"I think people have looked at the big picture with Roy and to judge Roy on his time here, would be stupid," he added.
"You look at the big picture and he's proved at many clubs and international level that he's a good manager. To have that CV proves you are a good manager.
"It is incredible how long he has been managing and to maintain that level of focus and determination at each club shows he's a winner.
"I just thought he was very unlucky because of the timing. To go to a club when a lot of the supporters wanted a different man in, you're off on the wrong foot from day one.
"You have a couple of bad results and things turn against you. But I witnessed him at first hand and I can assure everyone he's a fantastic manager.
"I've witnessed first-hand day-to-day how he works, his tactics, and what he tried to instil here. He's a very good tactician and I feel if everyone gets behind him, Roy can make a success of it."
What constitutes success is a matter for debate given England's difficult build-up to Euro 2012 with Hodgson only being appointed this month.
And Gerrard feels lower expectation levels could work in England's favour in Poland and Ukraine.
"Usually the experience I've had going into tournaments is always 'the golden generation are going to win it, we're going to do this'," he said.
Carried away
"We put two or three results together and the nation gets carried away and also the players start believing that we're great. Maybe we go into tournaments believing we're better than we are.
"Maybe in the last two or three tournaments, as a group of players, we've maybe thought we were better than what we were.
"Sometimes we thought we only had to turn up with England because we had a lot of top players. But we just haven't performed, we haven't clicked, we haven't gelled."
"I don't want to be too hard and we have been close, but I feel for the tools that we have got and the players we have had, I do feel we should have done better.
"I think this time there's a lot of realism about. Expectations are maybe down because we've not performed and we haven't delivered in the previous tournaments.
"The pressure and the expectation seems to be slightly in our favour this time rather than a hindrance and weight on our shoulders so we're hoping we can use that to our advantage."
Indeed, Gerrard is still dreaming of glory and he takes inspiration from Chelsea's Champions League success.
"Look at Chelsea the other night," he added. "They weren't the best team on the night. They weren't the best team against Barcelona, but they're European champions and they deserve it.
"So there is a chance when it comes to any big prize in football that the team which isn't the favourite can win it.
"Even though I've had a lot of setbacks and disappointing times as an international, the thought of maybe one day coming back as a success and a hero is still there. That's the buzz."