Walker upbeat after Spurs blow
Tottenham defender Kyle Walker is refusing to be downbeat despite the club missing out on a place in next season's UEFA Champions League.
Last Updated: 25/05/12 12:41pm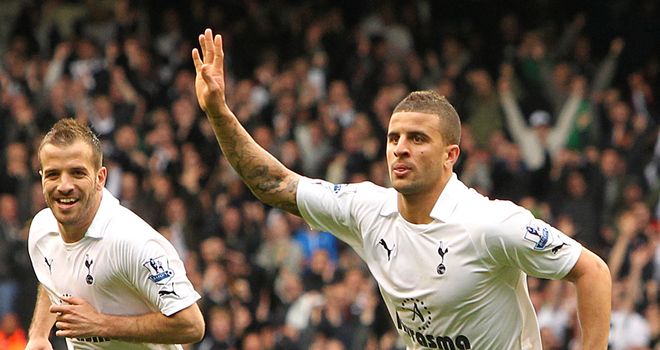 Tottenham defender Kyle Walker is refusing to be downbeat despite the club missing out on a place in next season's UEFA Champions League.
Spurs' hopes of playing in Europe's premier club competition were dashed despite finishing fourth, when Chelsea won this year's competition and thus snatched their place instead.
It completed a miserable three months for Harry Redknapp's side, who looked to be going 13 points clear of arch-rivals Arsenal in the race for third when 2-0 up at the Emirates Stadium in February.
Tottenham eventually lost that game 5-2 and the dramatic events in Munich last weekend have left emotions particularly raw at White Hart Lane.
But Walker is already looking on the bright side and hoping the club can progress next season.
The 21-year-old full-back told the London Evening Standard: "There is no need for doom and gloom. The club is on the up.
No worries
"I joined Tottenham three years ago and it has been getting better and better each year. We have nothing to worry about and I'm sure we will be there and thereabouts in the top four again.
"The fans are always going to feel down about what has happened, we do as well. We finished fourth but Chelsea won the Champions League, that's the rules.
"If the roles were reversed and we were in Chelsea's position, we wouldn't be complaining. We just have to go and get the Champions League place we should have got next season.
"I hope players like Gareth Bale and Luka Modric will stay. They're under contract and the chairman has made it quite clear that he doesn't want to sell our best players.
"The expectations of the fans and people around the club have gone up and we need to rise to that expectation."
Although Walker is hugely disappointed with how the season turned out, he is magnanimous enough to be happy for England Under 21 team-mate Ryan Bertrand after Chelsea's success.
Like Walker, Bertrand has forced his way into contention after numerous loan spells down the leagues.
And the Chelsea left-back was a surprise starter in the Champions League final against Bayern Munich - an achievement Walker feels was thoroughly deserved.
Gracious
Walker added: "I have to be gracious about the Champions League. It's an English team, I have friends like Ryan in the Chelsea dressing room and I have to be happy for him.
"I see Ryan quite a lot. We have a lot in common because we both had to go away on loan before getting a chance.
"He has been at a number of clubs and has had to do the same thing as I've done and wait his turn. Now he is proving what a good player he is."
Unfortunately for Walker, who was named the PFA Young Player of the Year last month, a broken toe means he will not be getting similar opportunities any time soon.
The injury has ruled him out of this summer's European Championship, although he retains hopes of featuring for Great Britain at the London Olympics.
Walker added: "I am in contention to be in the squad and would love to represent my country.
"I was told my recovery would take four weeks and hopefully I will be back running soon. Of course I am disappointed not to be going to the European Championships."