Hodgson allays injury fears
England coach Roy Hodgson insists that Scott Parker, Glen Johnson and Danny Welbeck will be fit for Euro 2012.
Last Updated: 25/05/12 11:06pm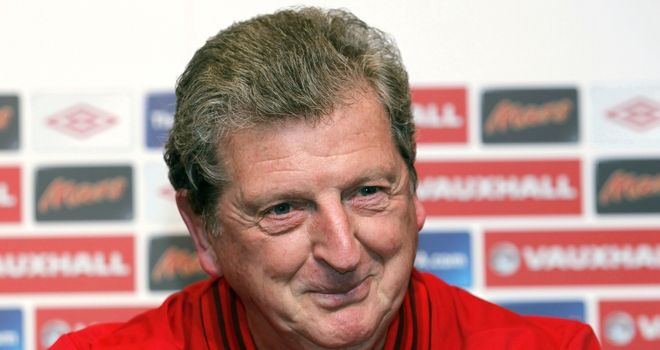 England coach Roy Hodgson insists that Scott Parker, Glen Johnson and Danny Welbeck will be fit for Euro 2012.
All three have been injury concerns for Hodgson as he took charge of England training for the first time.
Spurs star Parker had an Achilles injury as he linked up with the squad, but he has come through well and will start in Saturday's friendly in Norway.
Liverpool full-back Johnson has a toe infection which has ruled him out of training and the Norway match, but he will be okay for the Euros.
Manchester United striker Welbeck will also not be involved on Saturday, but Hodgson confirmed he will be okay for Poland and Ukraine.
Unlucky
"Scott Parker is good. We were concerned that he came with an Achilles (problem) and he has taken part in all the training sessions and has been fully active," he said on Sky Sports News HD.
"Glen Johnson is more of an irritant as it is an affected toe. He is out of tomorrow's game, but we are hoping by the time we get to London he will be okay.
"Danny Welbeck is the one which has cleared up less well than we hoped."
Asked if he expected Welbeck to be fine, Hodgson said: "I do, but on the other hand he might not be able to take part in training. But the doctor doesn't think there is a major problem.
"We didn't want to take anyone who wasn't 100 per cent but given the shortage of front players we have and the fact Wayne Rooney can't play until the third game, if we are going to make any allowances whatsoever, it would be for a forward.
"I'm hoping I'm not taking an 80% fit striker. I'm counting on Welbeck being fully fit.
"He (Welbeck) and Glen will come in on Monday to be assessed.
"You employ doctors, physios and experts and you value their opinions. When the opinion is: 'Don't worry, he'll be fit and okay', you have to accept that.
"We have a couple more days and there is an element of risk involved. But we don't have other alternatives of the Welbeck type."
Hodgson also confirmed John Ruddy's injury which has seen his Euro 2012 dreams shattered.
"It really was unlucky for us. He was so excited and to break a finger in training in the goalkeeping work was really unfortunate. We can't take a risk, it is broken, but the advice was that we had no choice to take him and as a result we have given a chance to Jack Butland," he said.
Starting XI
Hodgson revealed eight of his starting XI for his first game in charge of the national side.
With no Wayne Rooney or Chelsea players involved, Hodgson says most of his positions picked themselves.
Rob Green will be in goal, with a back four of Phil Jones, Leighton Baines, Joleon Lescott and stand-by man Phil Jagielka.
He confirmed skipper Steven Gerrard in central midfield, with Scott Parker, and Andy Carroll up front, with only his wide men and second striker yet to be confirmed.
"Quite a lot of my positions are sorted as we are waiting for a few players to join us, so I know what I am going to do, but I can't tell you. The back four takes care of itself," he said.
"Rob Green will start in goal. Steven and Scott will start. Carroll will start."
Hodgson shrugged off the statistic of the previous seven new England managers winning their first games in charge and was equally dismissive of the proud record of Norway coach Egil Olsen, who has never lost in four meetings with the Three Lions.
"I would be much happier if you could guarantee me I would win the first game in the European Championships," he said.
"That would please me much more."
Racism
On a more serious note, Hodgson expressed his sadness that the families of both Theo Walcott and Alex Oxlade-Chamberlain have opted not to travel to Ukraine due to fears of racism.
"It is sad some of the families are not going," he said.
"These matters are totally and utterly out of our control.
"We can only have faith and trust in UEFA that they are aware of these problems, particularly in Ukraine, and we can only hope they can solve them.
"I don't expect my players to suffer racist abuse because I prefer to remain optimistic.
"If it is particularly bad, it is not just our black players, it is other countries as well.
"We will be in a boat - we can only hope the captain steers it properly."