Keane calls for calm
Robbie Keane believes it is important for his Republic of Ireland team-mates not to get too tense ahead of Euro 2012.
Last Updated: 27/05/12 12:49pm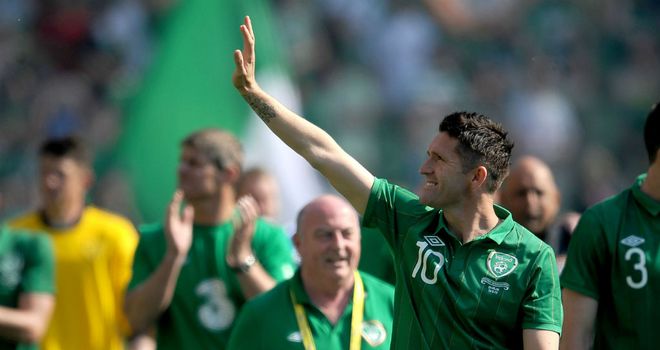 Robbie Keane believes it is important for his Republic of Ireland team-mates not to get too tense ahead of Euro 2012.
The Republic squad left Dublin for their pre-tournament training camp in Montecatini on Sunday morning, two weeks to the day before they open their campaign against Croatia in Poznan.
Most of them have already been together for a week with 10 members of the squad having joined up three days earlier, and while training and Saturday's 1-0 friendly win over Bosnia-Herzegovina have been characterised by an impressive intensity, Keane has warned against peaking too soon.
He said: "It's important that the players stay relaxed up until that first game against Croatia. We can't get too tensed up.
"I mentioned before we played Estonia [in the Euro 2012 play-off] how relaxed the players were. As a player, me personally, I think the more relaxed you go into a game, actually the better you play.
"That's always been the case with me. If you are too hyped up and too desperate, you end up doing something stupid.
"The mood has been very relaxed, but saying that, the intensity in training in football terms has been brilliant."
Impressed
Richard Dunne had been prevented from training during the early part of the week by a torn abdominal muscle but he turned in another imperious display against Bosnia and Keane was impressed.
He said: "It was just a typical performance, wasn't it, from Richard? He wasn't losing too many headers playing against two good centre-forwards, but what do you expect?
"That's what we expect from Richard. He's been like that for a number of years and he is very important to what we are trying to do here."
There were eye-catching displays too from wide men James McClean, who played the full 90 minutes on his first senior start, and Aiden McGeady, who responded to the challenge laid down by the Sunderland midfielder with a fine display after being introduced as a half-time substitute.
Keane said: "James did very, very well. We know what he's capable of doing. But Aiden McGeady when he came on, I thought he was superb."
The 31-year-old LA Galaxy striker was withdrawn after 63 minutes and replaced by goalscorer Shane Long, and while there was no sign of his hamstring strain, he left with a souvenir after taking a knee to the ribs.
He said with a smile: "The hamstring is fine. The ribs are in bits, though.
"I just found it hard to breathe. He kneed me in the ribs and it took a few minutes for me to catch my breath again.
"It's a little bit sore, but it's nothing that's too serious."