Brown urges Celtic duo to stay
Scott Brown is desperate for Celtic to hang on to star players like Fraser Forster and Gary Hooper.
Last Updated: 27/05/12 5:47pm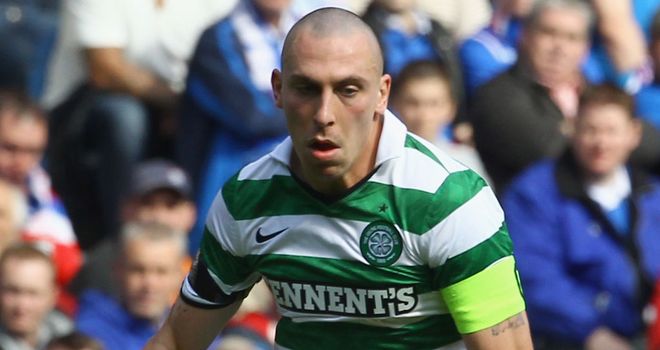 Scott Brown is desperate for Celtic to hang on to in-demand players such as Fraser Forster and Gary Hooper.
The 26-year-old skipper himself had the option of moving on a Bosman but decided to sign a long-term deal with the Hoops back in December and now he is hopeful his team-mates will do the same.
Interest has risen in goal-machine Hooper, with Premier League new-boys Southampton reportedly lining up a £7.5million bid for the former Scunthorpe United striker.
Meanwhile, the Scottish champions are thought to have agreed a £2m fee with Newcastle to make Forster's stay at Celtic Park a permanent one - but the goalkeeper is reluctant to commit to the club.
It is understood the 24-year-old's agent is looking for more options down south because Forster feels a move back home will help progress his England career.
Better chance
However, Brown has begged for the players to stay, highlighting that they will have a better chance of getting UEFA Champions League football with the Hoops.
"If you're in a good team and playing well, there will always be interest in you," he told Scottish newspaper The Daily Record.
"Fraser (Forster) has a year left at Newcastle and I'd love to see him back with us but I don't know what will happen.
"Gary (Hooper) is still signed to the club and we hope he stays. There's the lure of the Premier League but we've the lure of the Champions League if we get through our qualifiers.
"So I hope he stays. He's one of those strikers you love to play with. He comes to feet, he goes over the top and can score 30 goals a season.
"The Champions League is the tournament you want to be in. It's going to be hard to go down to England and experience that because you've got the big four or five teams fighting it out for places.
"England is for some people and not for others. I enjoy being at Celtic and have no intention of leaving. That's why I was delighted to sign my new deal."