Higuain hints at Real stay
Gonzalo Higuain has suggested he will stay at Real Madrid after saying he is excited for next season.
By Hayley Paterson
Last Updated: 27/05/12 8:35pm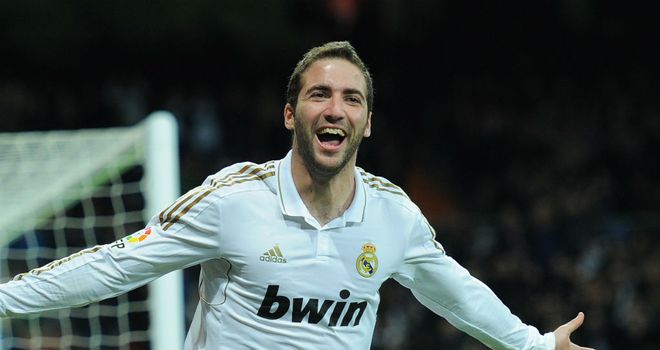 Gonzalo Higuain has suggested he will not be leaving Real Madrid after saying he is excited to be a part of the club next season.
The Argentina international's future has been thrown into doubt by several reports linking the 24-year-old with moves away from the Santiago Bernabeu .
Juventus, Paris Saint-Germain and Chelsea are all understood to be keeping a close eye on Higuain, but he insists he is looking forward to next season with Real.
"This was a tiring season at a physical level, because you are playing all the time, and at a mental level, because it is tough," he told AS.
"It was a stressful season, but I am happy to have won La Liga in the end.
"And I am excited by what is to come at Madrid and with the Argentina national team.
"I am going through a great moment. I have won La Liga with Madrid and I am with the national team again. I want to enjoy this."
Happy
Despite Higuain being used mainly as a substitute in Jose Mourinho's selections, the forward has conceded that he is happy with his scoring record, having picked up 26 goals in all competitions.
"The truth is that I feel very happy with the number of goals I scored in the season," he said.
"But I could have scored more."
He added: "Madrid's last match really touched me.
"The fact that all the fans asked me to stay, that my team-mates even thought about asking me that, or even Sergio Ramos' comments before the game.
"This was one of the best moments, if not the best moment that I have experienced at this club, in these five years.
"These are the memories that will stay with you forever."