Benzema backs fired-up France
Karim Benzema says France have a 'big desire' to succeed at Euro 2012 this summer and feels Jeremy Menez and Hatem Ben Arfa could be key.
By Patrick Haond
Last Updated: 28/05/12 11:08am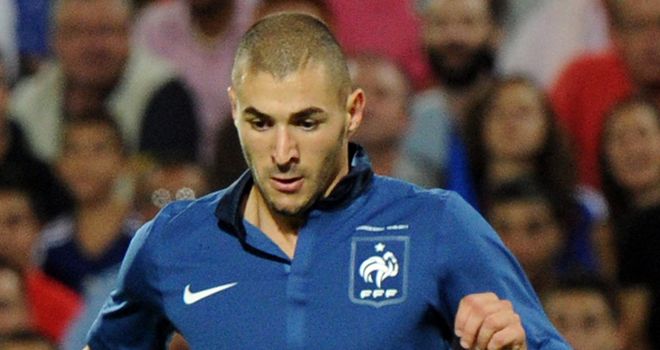 France striker Karim Benzema says Les Bleus have a 'big desire' to succeed at Euro 2012 this summer and feels team-mates Jeremy Menez and Hatem Ben Arfa could be key.
The Real Madrid frontman started for France as they came from two goals down to beat Iceland 3-2 in a friendly on Sunday night and is expected to lead the line in Poland and Ukraine.
Les Bleus will play two more friendlies, against Serbia and Estonia, before their Euro Group D campaign kicks off against England on June 11th.
Desire
Benzema insists he is not looking for individual glory at the tournament but feels the current generation of France players could do well if they come together as a team.
"At the Euros, I won't think about trying to be heroic or trying to do the whole job alone. I need all my team-mates to be good on the pitch," Benzema told L'Equipe.
"We all have a big desire, we talked about it and we will talk again. We have a good generation, it is up to us to play."
He added: "Jeremy Menez has had an amazing season, I had a lot of fun watching him playing at PSG. He will be the icing on the cake at the Euros.
"Hatem Ben Arfa is one of the very best in his position. I hope he will keep the same form. I know with him we can play together on the pitch with our eyes closed."
After struggling to settle at Real following his move from Lyon in 2009, Benzema feels he is finally finding his top form and largely credits coach Jose Mourinho for his development.
He added: "Before I left for Real in 2009, I was a hopeful, I was young, I was a little shy.
"Nowadays, I have matured. I am 24 years old, I feel more at ease and calm in front of the media. Physically I have also become more powerful.
"At Madrid I have learnt to cope better in matches of very high pressure, like El Classicos or big Champions League clashes.
"To me the biggest difference between Lyon and Real is the amount of effort you have to put in to make a name for yourself. At Madrid, I am making double the effort than I did in Lyon. I am working like mad."
Mourinho has been critical of Benzema in the past, questioning his attitude and commitment, and the 24-year-old is grateful to the coach for keeping faith in him.
Backing
"Since our very first meeting, I saw he will always back me," he said. "I felt he was fond of me, despite what he said later.
"He has never let me go. Even when he didn't play me, or trained me very hard, or when he slammed me in press conferences.
"Mourinho angered me to toughen me up. Finally that work has paid off."