O'Shea given Republic deadline
Rep of Ireland coach Giovanni Trapattoni admits he may have to look at other options if John O'Shea fails to recover before next Monday.
Last Updated: 28/05/12 1:21pm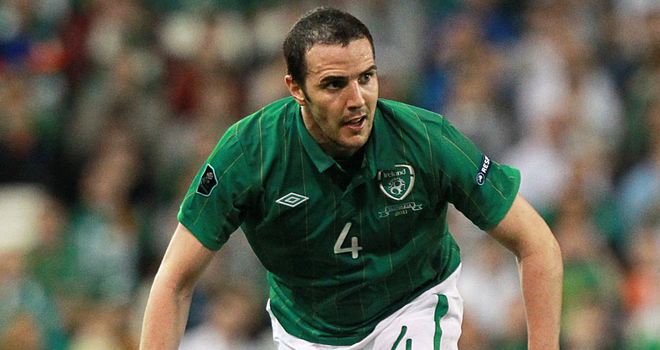 Republic of Ireland coach Giovanni Trapattoni admits he may have to look at other options if John O'Shea fails to regain fitness in time for next Monday's friendly against Hungary.
The Sunderland defender is a doubt for the Budapest clash after sitting out Saturday's 1-0 win over Bosnia-Herzegovina at the Aviva Stadium with a niggling ankle injury.
Trapattoni is confident the 31-year-old will shake off the problem in time for Monday's game but has hinted he will have to look for an alternative ahead of Euro 2012 if the stopper fails to recover.
Deadline
"I think O'Shea can play in Hungary. He assured me that he can be ready. But we wait because in Budapest he must play," the coach is quoted as saying in the Irish Examiner.
"I preserve him against Bosnia, like (Shay) Given. I said I would not run the risk but in Hungary he must play or else we have to look at another option."
Trapattoni was disappointed to lose Keith Fahey after the Birmingham midfielder was ruled out of the Euros with a groin injury.
"The players were sad for him, it is a pity," he added.
"We gave him our regards and said see you in August and again in the future. But at the moment we must concentrate on what we can do."
Paul Green, who will depart Derby this summer when his contract expires, has been called up to replace Fahey and Trapattoni is backing him to bring something extra to his midfield.
He said: "I thought very, very long about him and spoke with Marco (Tardelli). Paul Green is a particular kind of player.
"I know you (in the media) don't like him, you like only players who play the violin. But, for Italy, (Gennaro) Gattuso has been one of team's most important players.
Mentality
"There are players we need who have this mentality. They can't all be playmakers."
"Darron Gibson has other qualities and I complimented him on his performance against Bosnia. That is the Gibson I wish to have. But Paul Green can be like (Andy) Keogh against (Andrea) Pirlo when we played Italy in Liege last year.
"I need this type who does not permit others to play. Green has this quality. He has an attitude."