Phillips: Powell will be a star
Crewe goalkeeper Steve Phillips believes Nick Powell is destined for the very top of English football.
Last Updated: 28/05/12 4:16pm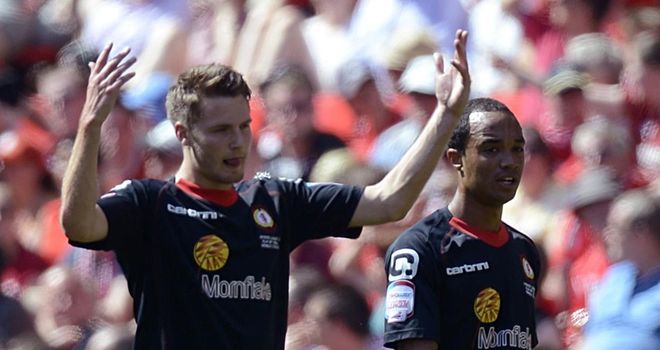 Crewe goalkeeper Steve Phillips believes Nick Powell is destined for the very top of English football.
England Under-18 international Powell illuminated Sunday's League Two play-off final against Cheltenham with a sumptuous turn and shot to open the scoring and set Alex on their way to a 2-0 victory.
Manchester United reportedly lead a clutch of top-flight clubs chasing his signature, with some well-placed observers lauding the 18-year-old forward as the finest product to come out of Crewe's famed youth system.
England internationals David Platt, Danny Murphy and Dean Ashton are among those to have learnt their trade at Gresty Road and nine of Steve Davis' triumphant Wembley XI were graduates of that same academy. Phillips, a 34-year-old veteran and ever-present for the Railwaymen this season, is one of the hired hands and has little doubt over Powell's potential.
"He's as good as I've seen at his age by an absolute country mile," said the 34-year-old. "Sometimes he needs to do it more in training - I'm not going to say he's the finished article by a long way, but he is an astonishing talent.
"Everybody will talk about that goal for years and years and rightly so because if it was in the Nou Camp he'd be worth £30million. He'll end up playing at one of the very, very highest clubs in England. Maybe this year, and if not this summer then at some stage, that's for sure."
Sharing elder statesman status with Phillips at the national stadium was captain David Artell, who played through the pain of a broken metatarsal to lift the silverware.
Former Rotherham centre-back Artell was unsurprised to see Powell rise to the occasion following many a torrid session chasing the youngster around Crewe's Reaseheath practice pitches.
"He does that in training, it's no surprise to us," he said. "I don't want to sound blasé about it, but we know he can do that.
"After he's taken me on three times and I've tried to kick him, when he puts it in the top corner I'll kick him when he's gone off celebrating!
"He's a fantastic talent and he's got unbelievable potential. I just hope, if he does go, he fulfils it."
Cheltenham defender Steve Elliott was also quick to pay tribute to Powell as the plaudits flooded in.
"Sometimes when you're touted as a big player and you don't produce on the big stage you're questioned," he said.
"But he's come up with the goods and stuck one in the top bin.
"It's a great strike and I've got to say congratulations to Crewe and good luck in League One."
Elliott also reserved praise for his own team-mates, insisting a fine season should not be soured by a bitter final note.
"We've got to look at the big picture, the season as a whole, and take the positives out of that.
"It's been a fantastic season and a pleasure to play for Cheltenham, especially with the team we've got.
"It will be a season that I look back on with very fond memories."