Jagielka had no quit thoughts
Phil Jagielka has revealed that turning down the chance to play for England was a thought that never entered his head.
Last Updated: 30/05/12 9:10am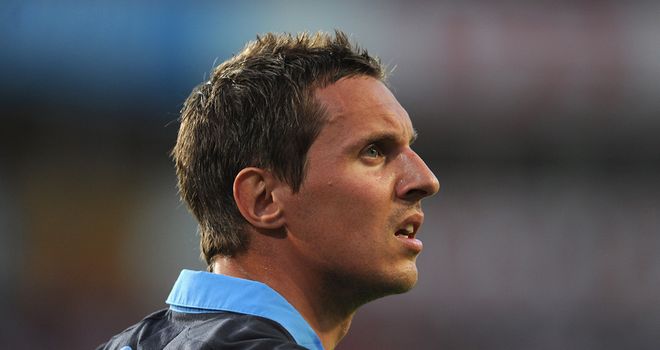 Phil Jagielka has revealed that turning down the chance to play for England was a thought that never entered his head.
The Everton defender has been drafted into Roy Hodgson's Euro 2012 squad after Gareth Barry was forced to withdraw with an abdominal injury.
The call-up was a reward for Jagielka's willingness to link up with the England squad to play Norway last week despite being omitted from the original squad.
Micah Richards had rejected the opportunity to be a standby player, while Michael Carrick was only interested if he could be guaranteed a first-team spot.
But Jagielka travelled to Oslo and impressed in England's 1-0 win, and the 29-year-old admits he soon came to terms with his disappointment at being left out of Hodgson's initial 23-man squad.
"Of course I was a bit disappointed and frustrated," he said. "But the manager asked me if I would come training for the four days and feature in the Norway game.
"He offered me a chance to play against Norway. If I'd said no at 29, I might as well have said I was retiring from international football. And I don't see myself doing that.
"I never thought I'd get this far. That's not me being negative, but a few years ago I was playing in the Championship.
"I can't comment on what other people want to do. It's their life.
Squad game
"But the way football is now, it's a squad game, whether you play for United, Chelsea, Arsenal or Liverpool, you don't get to play week-in, week-out, or very rarely anyway.
"Unfortunately for Gaz (Barry) he pulled up with a bit of an injury.
"I didn't think too much of it, but as we were getting on the plane home the boss said he was happy with my performance and if Gaz's scan wasn't good, he'd look to take me.
"When I chatted with Gaz on the plane, I knew he wasn't in the best shape. I wasn't counting my chickens, but I was starting to look at the possibility of cancelling my holidays.
"I was expecting to have the kids for six weeks then I've found myself cramming it all into the last couple of days.
"I was supposed to be golfing on Friday in Portugal but I'll take being at The Grove instead.
Released
"I never envisaged, when I got released by Everton at 15, ever getting back to play for Everton or playing for my country.
"As far as I'm concerned, I'm better off being third or fourth choice than 12th or 13th. It's the lesser of two evils.
"Saying that, I don't want to be third choice. I want to be first choice, down on the team sheet.
"But you've got to be realistic. If I was a betting man, I'd gamble on Gary Cahill and John Terry starting as first choice.
"But it's not going to get me down. It's just life and you've got to accept that."