McShane's sorrow for Foley
Republic of Ireland's Paul McShane had mixed feelings when he found out he had been selected to go to Poland and Ukraine.
Last Updated: 30/05/12 5:48pm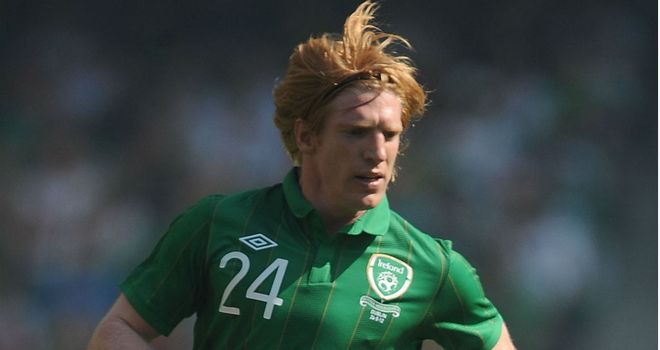 Republic of Ireland's Paul McShane had mixed feelings when he found out he had been selected to go to Poland and Ukraine.
Joy at his own inclusion, but sorrow for Kevin Foley, the man who had to miss out to accommodate him.
The 26-year-old could not have predicted such a turn of events when he was asked to join up amid a defensive injury crisis ahead of Saturday's friendly against Bosnia-Herzegovina.
McShane said: "I just turned up to the squad I didn't expect anything. I just turned up because I was called upon and I wanted to come and train with the lads.
"I started against Bosnia and now have been put in the 23. I never really expected it, but I was sort of always preparing mentally just in case I was called upon.
"I am happy to be there, but at the same time, I am also disappointed for Kevin. I wasn't expecting it, but football is a funny game sometimes.
"Probably if I was sitting by the phone waiting for a call, it wouldn't have come, so I just went about my business and did what I did, and the call came."
Torn
Both men were told of Trapattoni's decision at around 11.30am on Tuesday, and McShane immediately found himself torn.
He said: "I was told then and I was happy, but the minute I was told, I thought of Kev straight away because it is disappointing for him - I think he had family coming over.
"But football is a cruel sport sometimes. I am happy deep down, but at the same time, I do feel for Kev."
Wolves defender Foley was stunned to discover that his place in the original 23 had been given to Paul McShane, one of five men included on a stand-by list, when the squad was submitted to UEFA ahead of Tuesday's deadline.
Foley had spent the previous week or so battling to shake off a hamstring injury confident that he would be on the plane to Poland next week.
However, with John O'Shea still nursing an ankle problem and Darren O'Dea having missed training earlier this week with a thigh strain, Trapattoni decided he needed more cover for the central defensive positions, something McShane offers.
Foley appeared as a substitute their 5-0 friendly victory over a Tuscan Select XI in Pistoia on Tuesday, after which he revealed he felt "betrayed" by the 73-year-old Italian's decision.
He indicated then that he would not stay with the squad for the remainder of the training camp and Monday's final warm-up game against Hungary in Budapest, and that proved to be the case as he left on Wednesday.
Trapattoni revealed his regret at having to make the decision, but insisted he had had to do so for the sake of his team and the nation.