Dunne determined to progress
Richard Dunne thinks Ireland might as well not bother going to Euro 2012 if they do not travel with the confidence of qualifying.
Last Updated: 02/06/12 12:50pm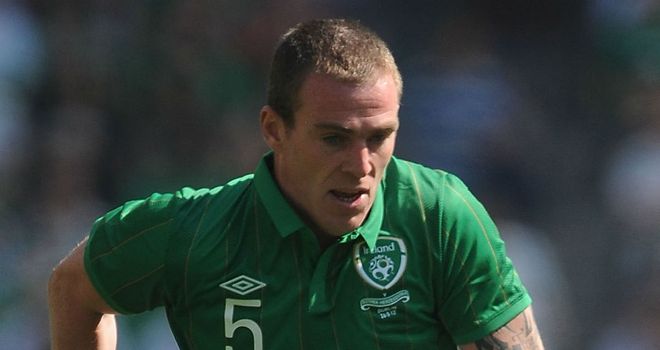 Richard Dunne thinks that the Republic of Ireland might as well not bother going to Euro 2012 if they do not travel with the confidence that they can qualify for the knockout stages.
The defender and his team-mates are now a little more than a week away from their opening Group C fixture against Croatia in Poznan and excitement levels are rising both inside the camp at their Tuscany training base and back at home.
They will head for Poland in an optimistic frame of mind that they can emerge from a group in which Spain, Italy and the Croatians stand between them and a place in the quarter-finals.
Dunne firmly believes the current Ireland side can compete with anyone - and the Italians in particular, have experienced that in the recent past - but he knows that in tournament football, fortune, good or otherwise, can play a significant role.
Asked if they can qualify for the latter stages, he said: "Yes. There's no point in us being here otherwise.
"We have to have the belief that we can go all the way and win the tournament - but then every team that's there will believe the same thing.
Clean bill of health
"We know we are as organised as anyone and as strong as anyone, so it's just about hopefully having that little bit of luck that can help us progress."
Trapattoni and his players have spent the last week working under the Tuscan sun in the spa town of Montecatini, and despite the drama of Kevin Foley's unexpected exit in midweek, are in positive mood as they prepare for Monday's friendly against Hungary in Budapest.
Dunne said: "The atmosphere is really good, really positive. We are a close bunch of friends anyway, so the longer we spend together, the better the atmosphere is and we know that when we go into the games, we are going to fight for each other."
Trapattoni and his assistant, Marco Tardelli, have spent much of the time since the squad assembled in Malahide last weekend issuing fitness bulletins after a series of players have been laid low by niggling problems.
But there were 23 men on the training pitch at Borgo A Buggiano on Friday, with the squad having been given a clean bill of health.
Dunne played in the 1-0 friendly victory over Bosnia-Herzegovina at the Aviva Stadium last Saturday and had another, shorter, run-out against a Tuscan Select XI on Tuesday night, and he showed few ill-effects of his lengthy lay-off with a fractured collarbone last season.
The Aston Villa defender said: "I have been training for two months nearly, and I played the last three games, and was then involved on Saturday and again the other night, so I feel fine."