Given reveals Euro concerns
Shay Given has admitted he feared his Euro 2012 dream could be scuppered by injury.
Last Updated: 02/06/12 5:25pm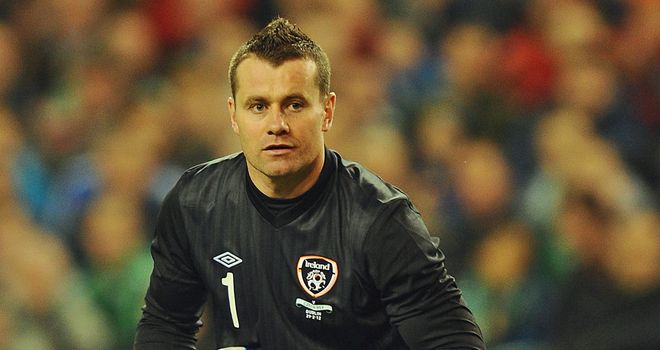 Shay Given has admitted he feared his Euro 2012 dream could be scuppered by injury.
The Republic of Ireland goalkeeper flew to London last week to see a specialist regarding his troublesome right knee.
But the 36-year-old Aston Villa man was given the all-clear to resume training and link up with his team-mates at their Italy base.
It is a relief for Given as he revealed he has been looking forward to the European Championship for much of the season.
He said: "You are always concerned, of course, because it's an injury the second day into the training camp and it's frustrating as much as anything.
"It's tough in the hotel sometimes when your only break is to get out for a couple of hours to train and then that's taken away from you a little bit.
Speaking before missing training again on Saturday suffering from blisters, Given added: "I am delighted to be back training and back among the lads and backing giving out to them, all that kind of stuff. It's nice.
"The whole season at the back of your mind, you are thinking about the European Championships in the summer. Every training session, every game, it's at the back of your mind.
"It's getting closer and closer now and the excitement is building and building, and we can't wait for next week."
Hungary hope
Given is hoping to be involved in Monday's final warm-up game against Hungary in Budapest as he feels that could be the line-up that takes on Croatia on June 10th.
Given added: "I would like to think I can play, hopefully, in Hungary and get 90 minutes under my belt before the Croatia game.
"I am sure whatever team he plays against Hungary will maybe start against Croatia.
"But the manager might have a totally different idea to that, I don't know."
Ireland face a tough task to get out of Group C after being handed the challenge of negotiating their way past the Croatians, Spain and Italy.
Asked if there is confidence the team can upset the odds, Given said: "Of course there is. I think there's a real belief as well that we are a good team as well.
"People outside the country might not think that, but as a group of players and the management and even the supporters, we are a tight-knit group and we have got to keep that going throughout the championships.
"We would like to go a long way."