Xavi - Euros are toughest test
Spanish midfielder Xavi Hernandez believes the European Championship is harder to win than the World Cup.
Last Updated: 03/06/12 3:33pm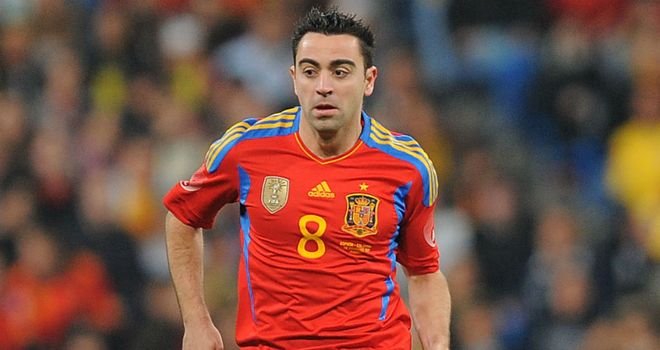 Spanish midfielder Xavi Hernandez believes the European Championship is harder to win than the World Cup.
The world and European champions are looking to complete an unprecedented treble by retaining their European crown in Poland and Ukraine this month.
And the Barcelona playmaker thinks success will make them marked opponents when the competition gets under way.
But Xavi feels Spain are in a more relaxed frame of mind ever since beating then world champions Italy in 2008 to pass the quarter-final stage for the first time at a major tournament since 1984.
"I have the feeling that the duty has been completed, that we are in peace. There are no urgencies anymore, no fear of the quarter-finals, no worries," the 32-year-old told El Pais.
"The day against Italy changed the dynamic of Spanish football, it was like a liberation. The title then arrived and the World Cup. I want to continue winning, but I feel we are in peace.
"Everyone wants to beat the champions. For us it is another game, for our opponent is it the game. Moreover, we are without (David) Villa and (Carles) Puyol.
"Vicente Del Bosque (the Spain coach) was right to say they are irreplaceable but we will try to compensate for their loss with other people.
"The European Championships is harder than the World Cup, more intense. There are no Cinderellas.
"In the World Cup, with all respect, you can face Honduras or Saudi Arabia. In the Euros, anyone can beat you."
No disaster
While Xavi would love to make history yet again, he does not feel there is huge pressure to do so and takes pleasure in the knowledge that Spain have changed the way their rivals play too.
He added: "Four years ago we wanted to pass the quarter-final and now we are demanding something which no one has ever achieved? No, the lesson ought to be different.
"We are going to try, with our style, but if we don't achieve it then we will be calm. For no reason would it be a disaster.
"There are seven or eight teams that could win the title, so there would be a lot of disasters this year if that were the case, not everybody can win.
"I can't remember such an open tournament. There are rivals desperate to win and well-prepared like Holland, who have everything and are a very good team.
"Then you have France, Germany, Portugal, Spain, Italy and England.
"Moreover though, we have created the idea of wanting to play with the football, not speculating.
"Now Germany wants the ball, Italy don't give away areas of the pitch to play in. I think this is more transcendent than winning two titles."