O'Neill - Deal with defeat
Michael O'Neill has told his Northern Ireland players they cannot allow their 6-0 defeat at the hands of Holland to scar them.
Last Updated: 03/06/12 4:02pm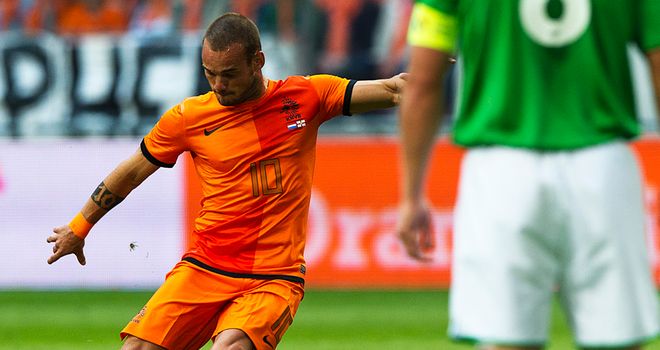 Michael O'Neill has told his Northern Ireland players they cannot allow their 6-0 defeat at the hands of Holland to scar them.
The Northern Ireland manager saw his youthful team brushed aside with ease by a Dutch outfit in rampant form.
Robin van Persie and Ibrahim Afellay both netted twice while Wesley Sneijder and Ron Vlaar also found the target.
It was an emphatic beating for Northern Ireland but O'Neill believes his young players cannot afford to feel sorry for themselves.
"If you're scarred for the future by something like that then you're not cut out for international football," he said.
"It has to make you tougher, it has to make you able to deal with it. That's part of football.
"Whether you're a player or a manager you have to deal with that disappointment.
"This will make me stronger as a manager and it will make the players stronger for what lies ahead too."
Injuries
With a list of unavailable players that stretched to double figures, O'Neill handed debuts to Burnley left-back Daniel Lafferty, Walsall striker Will Grigg and Coventry defender James McPake.
And O'Neill can only hope something positive can come from their experiences.
"We knew coming into the game the squad we had available to us. We had three debutants and it was a huge game for them to come in to," he added.
"They are all very disappointed right now, as I am but hopefully in the cold light of day they will look back and it will be a harsh learning curve.
"It was a tough lesson at times but any experiences you have in football tend to make you stronger and I hope we learn something."
Although he was clearly disappointed by the result of the match, O'Neill felt much better about the time he spent working with the squad.
"In friendly internationals the results are always secondary, really. It's more about preparation and what you get out of that," he said.
"I always said the preparations would be more important than the game and that hasn't changed. We had great preparation but that doesn't always translate to a result.
"The three days we had with the players has been invaluable and it's another important layer of preparation before the World Cup qualifiers."
Dejected
The message was less upbeat from a dejected Andy Little.
The versatile Rangers man, deployed on the right of a midfield five last night, could not hide his frustration at Northern Ireland's first-half capitulation at set-pieces.
"There can be no real positives from a 6-0 defeat," he said.
"I know there was a lot of inexperience in the team but I felt we could have done better.
"It was absolutely criminal to concede three early goals from set-pieces and that set the tone for the entire game.
"We spoke about that and worked hard to make sure we didn't give them any advantage from free-kicks or corners.
"However, their first goal came from a corner, the second from a free-kick and third was a penalty. It's hard to take really."