Kuyt - Rodgers not a reason
The arrival of Brendan Rodgers at Liverpool did not make up Dirk Kuyt's mind in the Dutchman's decision to join Fenerbahce.
Last Updated: 03/06/12 7:47pm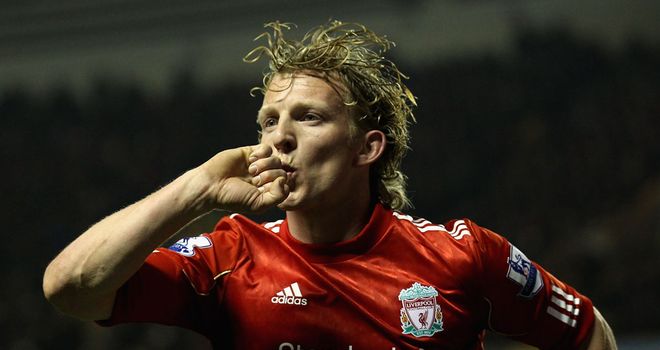 The arrival of Brendan Rodgers at Liverpool did not make up Dirk Kuyt's mind in the Dutchman's decision to join Fenerbahce.
The Turkish giants on Sunday announced the signing of the Holland forward on a three-year contract, ending his six-year spell on Merseyside.
Kuyt found first-team starts limited under former boss Kenny Dalglish and even the Scot's departure, and the arrival of Rodgers as his replacement, could not stop him leaving.
"After six years, I am ready for a new challenge," Kuyt said on the website of his management, Sport Promotion.
"(The club and supporters) I will always carry in my heart.
History
"The appointment of the new coach has nothing to do with it. But when Fenerbahce came to me and made their ambitions known, from the first moment I was sold. They give me the confidence that I lost."
Kuyt added on Liverpool's official website: "I think it's great for the club that they have finally announced the new manager.
"From what I have heard from (Swansea goalkeeper) Michel Vorm, who is with me in the national team, he is a great manager and he told me he will be perfect for Liverpool and he will definitely lift the club up to a higher state."
Kuyt also said: "I'm sure Liverpool will improve under the new manager. Liverpool has a great squad of players and I'm sure with this manager they will do well."
He leaves Liverpool having won just one trophy, the 2012 Carling Cup, when he scored in extra time and in the penalty shoot-out victory over Cardiff, in six seasons on Merseyside.
Work ethic
Kuyt was never as prolific at Anfield as he was during his time in Holland, although he was often played out wide, but he still scored 71 goals in 285 games for Liverpool.
The forward was admired by Liverpool fans for his work ethic and his former captain, Steven Gerrard, has also paid tribute to his ex-team-mate's qualities.
Gerrard told Liverpool's official website: "Dirk is a great player, a great person and was a great servant to Liverpool.
"From the first day he came to the club, he was someone you could trust and knew that he would never let you down on the pitch.
"I know how much scoring against Cardiff in the Carling Cup Final meant to him but he was already assured a part of the club's history even before helping win that trophy.
"I will miss him around the place and I wish him and his family all the best in Turkey."