Rio call baffles Van der Vaart
Rafael van der Vaart admits he was bemused by England boss Roy Hodgson's decision not to take Rio Ferdinand to Euro 2012.
Last Updated: 05/06/12 3:05pm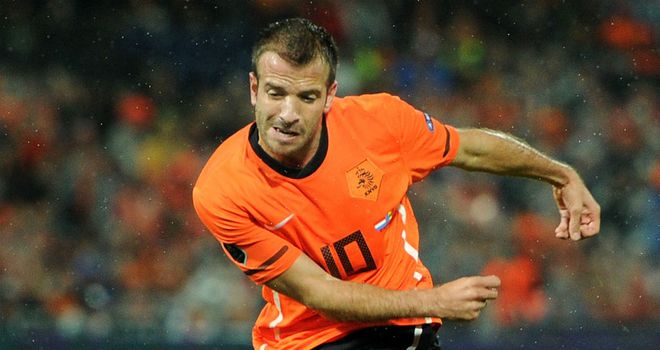 Rafael van der Vaart has admitted he was bemused by England boss Roy Hodgson's decision not to take Rio Ferdinand to Euro 2012.
Ferdinand was left out of the original squad and has been overlooked since, despite numerous withdrawals that have seen inexperienced Liverpool defender Martin Kelly receive a call-up.
Holland international Van der Vaart has labelled the move by Hodgson as "strange" on the grounds that the Manchester United centre-back remains one of the finest in the world.
The Tottenham attacking midfielder added: "It surprised me because I think he's still one of the best defenders in England, and maybe in the world.
"Of course, he's a little bit older now, but he's still fit and fresh and he played for Manchester United."
The continued omission of the 33-year-old defender leaves England short of experience in a squad already shorn of Frank Lampard and Gareth Barry.
With Gary Cahill, Michael Dawson, Jack Wilshere, Chris Smalling and Kyle Walker also unavailable, England's options are not looking as impressive as they might have been.
But Van der Vaart said: "They still have a great team. It's a pity for them that Lampard is injured, but they have so many good players.
"They have a new manager, so maybe they'll play a little bit different now. England are always a danger to play against."
Criticised
Hodgson has also been criticised for turning to Liverpool duo Martin Kelly and Jordan Henderson after the Reds' disappointing season.
But Dirk Kuyt, who quit Anfield for Fenerbahce on Sunday, has defended the selection of his erstwhile team-mates.
"Roy Hodgson is the one who decides who he selects for the national team," said Kuyt of his former Liverpool boss.
"There's only one decision to make - he has to make the best possible team. I'm sure Martin Kelly and Henderson will do well.
"They are young but they're both very talented and I'm sure they will help England moving forward."