Ribeiro plays waiting game
Former Bristol City defender Christian Ribeiro is willing to be patient in his search for a new club this summer.
By Chris Galea
Last Updated: 06/06/12 11:50am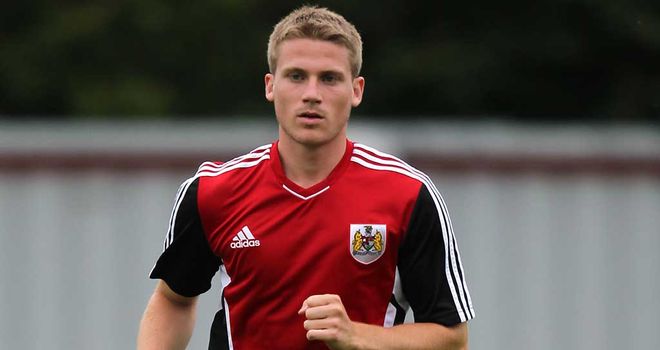 Former Bristol City defender Christian Ribeiro is willing to be patient in his search for a new club this summer.
The Wales international has been linked with several League One clubs, including Scunthorpe, where he impressed during a two-month loan spell last season.
However, Iron manager Alan Knill revealed doubts over a permanent switch due to the full-back's wage demands.
But Ribeiro told Sky Sports that he doesn't expect his future to be sorted out until later this month.
"I'm talking to a few clubs now and sending a few feelers out, so I've just got to be patient and see what comes back," he said.
"It is exciting because you get the chance to speak to managers and they try to sell their club to you and I've never really had that experience before.
"At the same time it is a little nerve-wracking because there might be clubs you want to be interested that aren't and ones which are that you don't particularly want to join too.
"There are good and bad parts of being a free agent, but it is still early days and with it being an extended summer, due to the Olympics and Euros, there is still lots of time left for things to happen.
"Opportunities tend to arise when players move clubs and there hasn't been a great deal of that yet, so it could be a slow-burner this summer."
Strange season
The 22-year-old departed Ashton Gate after making 17 appearances for the club, but found first-team chances restricted last season, yet he insists that it was a positive campaign for him personally, enjoying two different loan spells at Carlisle and Scunthorpe respectively.
"It has been a strange season, but most importantly it has been an injury-free year because that was the main thing for me.
"I needed to show people that I could go a full season without picking up any major injuries, so I've done that.
"However, I haven't played for the Bristol City first-team at all this season, which has been a bit frustrating.
"I did manage to play 17 games in League One for both Carlisle and Scunthorpe, which went really well, so they were big positives.
"Also, I've probably played the best part of 50 games this year if you include all the reserve fixtures, so it has been a lot of football, just not as many first-team games as I'd have liked.
"It was more of a case of proving to everyone that I am fit enough to be a footballer after the past couple of seasons dogged by injuries.
"There have been a lot of positives to take from this year, with the only negative being the lack of first-team football at Bristol City."