Benzema boosted by England woes
France ace Karim Benzema believes they can take advantage of England's injury problems when they meet next week.
Last Updated: 07/06/12 11:07am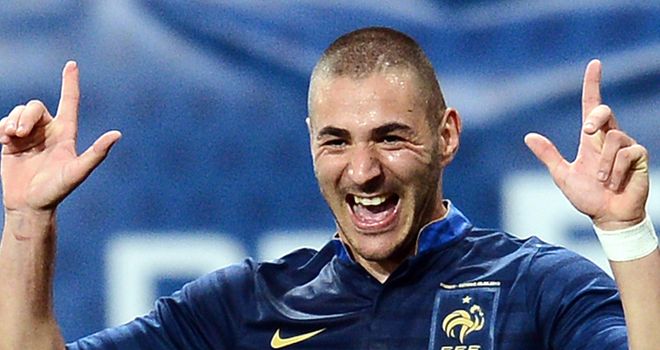 France ace Karim Benzema believes they can take advantage of England's injury problems when they meet next week.
England go into the game with their options limited by the crippling injury list that has robbed Roy Hodgson of some of his top stars.
Frank Lampard, Gareth Barry and Gary Cahill have all been forced to pull out of the squad through injury, while Wayne Rooney is missing for the first two games through suspension.
Benzema believes the absence of key personnel can only aid France's chances of getting off to a winning start in Donetsk next Monday.
"The injuries will affect England. They have absences from every department on the pitch and it is very negative just days before the opening game," Benzema is quoted as saying in the Daily Mirror.
"Rooney is the reference for England, without him they will have to make more changes with players and the way they play.
"They will also have to make changes in defence and that may allow us to get opportunities on goal."
Real Madrid hit-man Benzema believes the outcome of the match is hard to call, but concedes the Group D opener is 'decisive.'
50-50
"We can't allow ourselves to take too much confidence from our opponents missing players because England are a hard team," added Benzema.
"The match is probably 50-50 but in France we are optimists. Our team is good, we are preparing well and we are preparing for a final because our mentality makes us think of the first game as a final.
"The key will be to score the first goal. Whichever team scores first will open up the match, get more chances and we must take our opportunities.
"France are improving and we arrive at the Euros at just the right moment. We want to win even though a draw is not a failure. This is THE decisive match for us."
Benzema will be looking to find a way past England keeper Joe Hart, but he knows how hard it will be to beat the Manchester City shot-stopper.
"I've watched some matches of Manchester City during the season and Hart is so important for his club and he is key for England," continued Benzema.
"It will not be easy to beat him, but that is our mission. The French players who play in the Premier League know some players and their weaknesses for England. But Hart is very strong.
"The pressure is there for us - but also for England. It's not a problem. We are experienced professionals with big clubs and it's not different."