Blanc broadside
French coach Laurent Blanc has made a thinly veiled attack on how he feels England will approach their opening game of Euro 2012.
Last Updated: 11/06/12 7:24am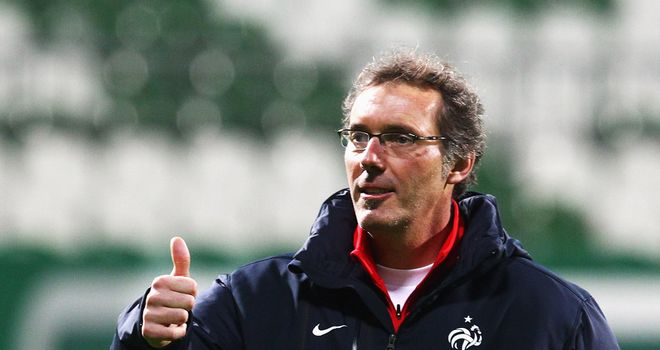 French coach Laurent Blanc has made a thinly veiled attack on how he feels England will approach their opening game of Euro 2012.
Blanc thinks that new Three Lions boss Hodgson will deploy a more defensive system, mainly to try and keep France - who are on a 21-game unbeaten streak - at bay.
Indeed Blanc stated that if France played as he expects England too, then the game on Donetsk on Monday would be goalless.
"If we play the English way then it'll be 0-0 and we might get a goal from a set-piece," he said.
"We'll play our own game. I hope the side that plays more football will win the game, but it's not always the case that that happens in football.
"I've done this job for two years, and Mr Hodgson knows it a lot less than me for sure. But it's difficult to put ideas across to your players - you don't have a lot of time to work with them, and he's had far less than me.
"He's tried to put across how he wants his side to play in their last two games. I think he'll try to play in the same way tomorrow - he's not bluffing - in the hope they understand what he wants from them, individually and collectively.
"There'll be two very different footballing philosophies on show. I know what to expect in terms of spirit and strength in the tackles. They'll be like that.
"We've watched their last two friendly games. We didn't learn they were very committed - we knew that - but if they play in the same way they'll drop back, have a bank of four with some quick players, and try and hit us on the break.
"We need to be wary of that, and make sure we're not caught off guard. If there's space in behind, they'll counter-attack. Steven Gerrard is a great passer of the football, too."
Outsiders
Despite their excellent run of form Blanc maintains that France are only outsiders for Euro 2012.
"Essentially we've stored up a lot of confidence recently. The side really needed some over the recent friendly games but they've also been important in terms of individuals," he continued.
"Certain players have gained in confidence, and that's great for the side and the squad.
"But the French team don't have the same ambitions as Spain or Germany at the start of these European Championships.
"France, in terms of their results over the last few years, have not allowed us to retain our place in European or World football.
"People say I often bring this up, but I don't do that because I like to. It's the reality. People say we're favourites in the group, but I don't agree with that.
"We were in the fourth pot in the draw, and that means something. It's an open group. France, England, Ukraine and Sweden can all legitimately believe they can get into the latter stages."