Gomez defends his display
Germany striker Mario Gomez has hit back at Mehmet Scholl's criticism of his performance in the win over Portugal.
Last Updated: 11/06/12 3:04pm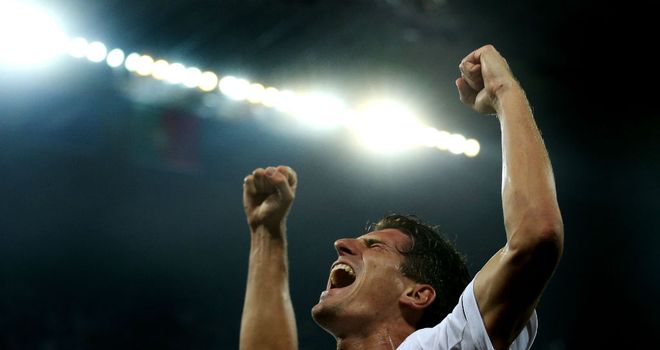 Germany striker Mario Gomez has hit back at Mehmet Scholl's criticism of his performance in the win over Portugal.
The Bayern Munich forward headed the winner, moments before he was due to be replaced by Miroslav Klose, in the 1-0 victory in their Euro 2012 opener.
But his all-round display was heavily criticised by former Germany midfielder Mehmet Scholl, who was working as a pundit for broadcaster ARD.
Scholl said: "I have seen him run more (than against Portugal), but seldom less. If he did much, much more work, he would get even more chances and score more goals."
When asked about the comments at Monday's press conference, Gomez said: "With Mehmet and me, there is a story there.
"Mehmet spoke to me before at the Oktoberfest. He told me: 'I know what you think about me. Since I have been an expert (pundit) you think I am a ...
"He has already said to me that I am not fulfilling my potential and wants to bring it out of me. And I take that on board.
"He is a coach, you can learn a lot from coaches.
"I have been the most successful striker in Germany over the last five or six years, have after (Lionel) Messi scored the most goals in the Champions League.
"I would like to know why I should change."
Gomez scored 13 goals in last season's UEFA Champions League, one behind Messi, and scored 41 goals in all competitions for Bayern.
Scholl, who spent 15 years at Bayern as a player and won 36 caps for Germany, insisted his comments were not personal.
He said in the Bild newspaper: "There is an impression forming that I have something against Gomez. But that is absolutely not the case. I am of this team and Gomez is a part of it."
Beckenbauer praise
Meanwhile, Franz Beckenbauer claimed Germany played "like men" against the Portuguese, singling out goalkeeper Manuel Neuer, defender Mats Hummels and midfielder Mesut Ozil for special praise.
Writing in Bild, Beckenbauer, who won the World Cup as a player and manager, said: "That was no magic trick, that was real man's football. With tackles, with passion, with hunger for the fight.
"That was always the basis of all Germany's European and world titles. Otherwise you win nothing."
Beckenbauer claimed Neuer was "on the way to becoming the number one goalkeeper in the world", the selection of the "uncompromising" Hummels was "spot-on" and Ozil was the most "eye-catching" German attacker.
He added: "Even more important is (coach) Jogi Low has seen that he can rely on every player."
Next up for Germany are a Holland side looking to bounce back from their shock opening defeat to Denmark.
"Against us they are fighting for survival," Beckenbauer added. "Against the strong Portuguese it was hard. On Wednesday it will be super hard."
Germany boss Joachim Low admitted he could make changes to his side for the Holland game.
"I am not one of those who always says 'never change a winning team'. It is possible that there could be changes."