Andrews rues defensive lapses
Keith Andrews admitted Ireland 'shot themselves in the foot' as they were dumped out of Euro 2012 thanks to a 4-0 thumping by Spain.
Last Updated: 14/06/12 10:45pm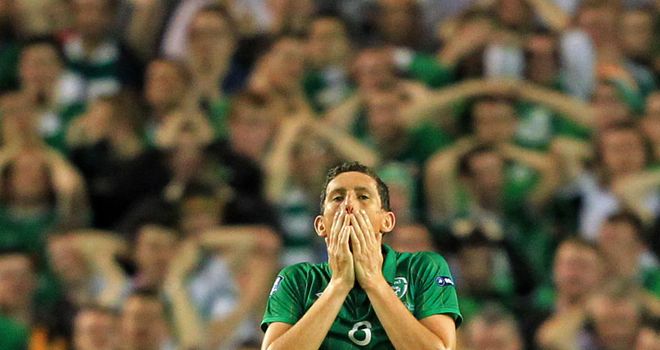 Ireland midfielder Keith Andrews admitted his side "shot themselves in the foot" in their 4-0 thumping by Spain, which confirms their elimination from Euro 2012 with a game to spare.
Giovanni Trapattoni's men were once again guilty of conceding early goals at the start of each half, with Fernando Torres opening the scoring after just four minutes to give the reigning champions a perfect start.
"We tried to say before the game, 'let's learn our lessons'. But we shot ourselves in the foot again," said Andrews.
"They were silly goals and we didn't learn, but they're such a top side any lapse in concentration is going to hurt you.
"For the majority of the game, we were chasing shadows and we couldn't get near them. They are a fantastic side."
Andrews went on to pay tribute to the Irish fans who made up the majority of the crowd in the stadium, adding: "The fans were an absolute credit to their country and unfortunately we have not been able to give them what they deserved.
"We're playing [against Italy] purely for the fans and for our own pride. They've travelled in their thousands.
"With seven or eight minutes to go, all you can hear is the Irish fans and we're losing three or four-nil."