PSG fail in Silva bid
Silvio Berlusconi has confirmed that AC Milan have turned down an 'extraordinary' offer from Paris St Germain for Thiago Silva.
By Nadia Carminati
Last Updated: 15/06/12 10:06am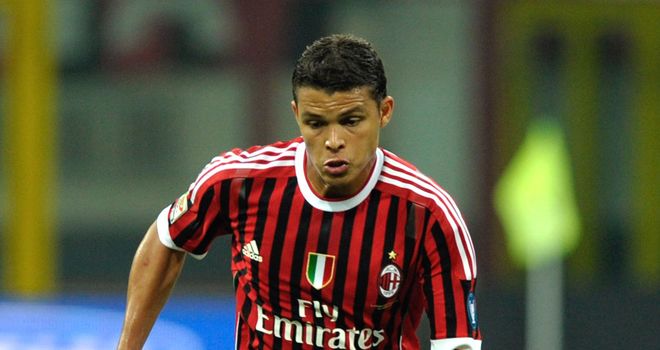 AC Milan president Silvio Berlusconi has made it clear that Thiago Silva will not be going anywhere this summer after confirming they have turned down an 'extraordinary' offer from Paris St Germain.
Milan vice-president Adriano Galliani has been locked in talks this week with PSG executives regarding the possible sale of the Brazil international to the Ligue 1 side.
However, PSG sporting director Leonardo admitted on Thursday that no agreement had yet been reached, and Berlusconi says the matter is now closed.
Berlusconi admits that PSG did their best to prise the defender away from Milan with a big-money bid believed to be in the region of €46million (£37.4m), but insists he will be staying put.
"We have not changed our mind," Berlusconi told SportItalia. "We had no intention of selling the player but we had received an extraordinary offer from PSG.
"We have always been clear and PSG should not feel let down.
"We told them from the start that we would take a decision once we had looked at the offer and seen what is out there in the market in terms of finding a possible replacement.
"They made us a very interesting offer, close to 46million euros.
"We considered the possibility (to sell) and we looked at the central defenders that would replace Thiago Silva but we haven't found an adequate player.
"The old heart of Silvio Berlusconi has allowed us to reject this offer."
Easy solution
Silva joined AC Milan from Fluminense in December 2008 in a deal worth under €10million, and is under contract with the Rossoneri until June 2016.
Silva's agent Paolo Tonietto said on Thursday that if the 27-year-old was to remain with the Italian club then he would expect Milan to offer him a new contract.
Milan appear ready to placate him, with Berlusconi saying: "Thiago Silva is a great man and we can find an easy solution. We hope to have the best defence next season."
Berlusconi also brushed aside reports that Zlatan Ibrahimovic will move away from the San Siro this summer.
Ibrahimovic was linked with a move to PSG and Manchester City this summer.
"Regarding Ibra (Ibrahimovic), he will also remain because he is the best in his position," Berlusconi said.
Leonardo reaction
PSG sporting director Leonardo has no hard feelings towards former club Milan despite failing to reach an agreement to land Silva.
"We thought the negotiations would be successful," Leonardo said to Sky Italia. "However, in order for that to happen, you need the wish of the two clubs to complete a deal.
"Milan seemed willing but then there were certain things that blocked the situation.
"This can happen in football and I cannot accuse Galliani of anything, he remains my great teacher.
"Having gone as far as we did in the negotiation, we decided to pull out.
Leonardo, who coached Milan in the 2009-10 campaign, also insisted that Sweden international Ibrahimovic was never on PSG's wish list despite speculation suggesting otherwise.
"I can assure everyone that we never spoke about Ibrahimovic," Leonardo said. "Our only real interest has always been Thiago Silva."