Rosicky concern for Czechs
Czech Republic midfielder Tomas Rosicky is a doubt for Saturday's game against Euro 2012 co-hosts Poland after aggravating a foot injury.
By Vasek Kadlec
Last Updated: 15/06/12 2:31pm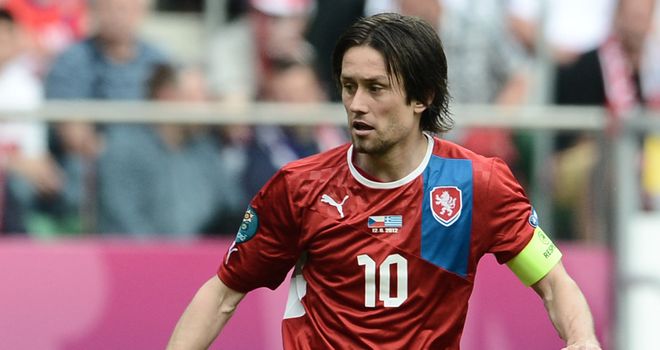 Czech Republic and Arsenal midfielder Tomas Rosicky is a doubt for Saturday's game against Euro 2012 co-hosts Poland after aggravating a foot injury.
The 31-year-old suffered the problem towards the end of the Gunners' season and a challenge in Tuesday's 2-1 victory over Greece caused the injury to flare up again, prompting him to be substituted as half-time.
It is now uncertain whether Rosicky will feature in the Czechs' final Group A game against Poland, but the midfielder says he is fighting to be fit.
Knock
He told sport.cz: "Unfortunately I got a knock in the same place where I had issues towards the end of the club season at Arsenal.
"Naturally I cannot describe it in expert terms but it is the place where the Achilles tendon goes into the heel.
"I finished the season at Arsenal with this issue and, unfortunately, now I've gotten hit in the same spot again. Someone kicked me there.
"Given my role in the team and the movement I usually get a lot of knocks. You can't avoid it unfortunately.
"This is a bit different (to the injury at Arsenal). When it happened at Arsenal I was basically not training at all ahead of the last three fixtures. I just played in the league matches.
"But it was not as painful as it is now. I have a lot of swelling and it hurts a lot.
"It hurts me even if I walk. Actually, I cannot stand on the foot properly."
But the midfielder added: "On the other hand, I'm not throwing in the towel. I was waiting for this tournament for an extremely long time and if it is any way possible I will take my chances. We'll see how it turns out."
One of Czech coach Michal Bilek's assistants, Frantisek Komnacky, believes Saturday's game could come too soon for Rosicky to start after he missed training on Thursday but is more optimistic over Chelsea goalkeeper Petr Cech, who picked up a shoulder problem against Greece.
Doubt
Komnacky said: "I sit right next to Tomas in the dressing room so we have been discussing his start properly. It is clear to see how much he wants to play.
"We want to have both (Rosicky and Cech) ready. But whilst Petr is very likely to be fit, with Tomas it seems that we will be worried until the last possible moment."
After partaking in light training on Wednesday, keeper Cech told idnes.cz: "I am satisfied with how I have coped with the training. I will be 100 per cent ready for the match."