Andrews wants veterans to stay
Keith Andrews wants the Republic of Ireland's veterans to continue playing after the European Championship.
Last Updated: 19/06/12 1:11pm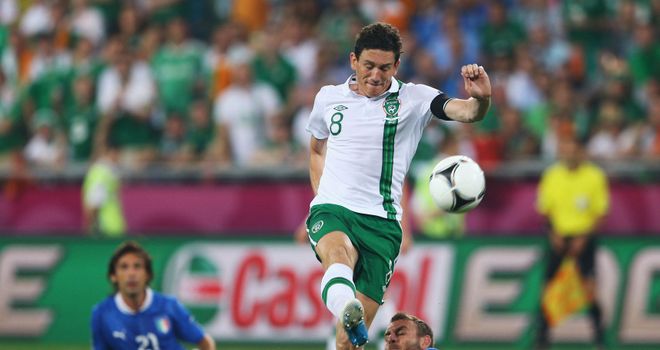 Keith Andrews would like the Republic of Ireland's veterans to continue playing, despite the dismal performance of the team at Euro 2012.
The Republic's wretched tournament was wrapped up with a 2-0 defeat by Italy on Monday, which meant they tumbled out of the tournament without a point.
Out of the ashes of this disappointment, there is talk of new team emerging which will have a focus on youth and could mean Robbie Keane, Damien Duff, Richard Dunne and Shay Given all making way.
A period of reflection will surely follow for these players but their experience should be retained says Andrews.
Stalwarts
"The lads that are being talked about in particular have been fantastic servants - absolute stalwarts of the team of the last 10 or 12 years," he said.
"On a personal note, I've really enjoyed playing with them so hopefully they don't go, but it's their decision."
The call for change is just not restricted to the field of play, but also off it, as questions about coach Giovanni Trapattoni's suitability to lead the team surface.
His rigid refusal to abandon the players who helped Ireland qualify for their first European Championship in 24 years caused dismay in some quarters.
Qualified
Andrews, however, felt the veteran coach had every right to retain faith in the players whose achievements had exceeded their abilities over the last few years.
"Let's be frank, we haven't qualified for this tournament for 24 years," he added.
"It is easy to sit there and criticise a man who got us the qualification.
"He's not really going to change something that's brought us a lot of success over the last four years, is he?
"We are not pleased with our individual performance, collective performance and, certainly, we've come up against fantastic opposition."