Bonucci hands Azzurri warning
Italy defender Leonardo Bonucci insists England are not all about striker Wayne Rooney as they prepare for Sunday's quarter-final showdown.
Last Updated: 21/06/12 6:53pm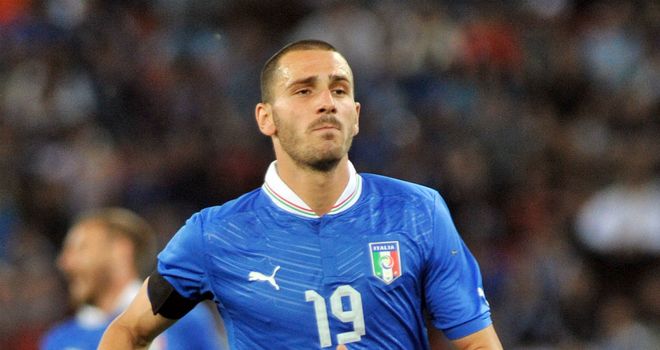 Italy defender Leonardo Bonucci insists England are not all about striker Wayne Rooney as they prepare for Sunday's European Championship quarter-final showdown.
The Juventus centre-back believes Roy Hodgson's troops could prove to be the Azzurri's toughest test yet, despite having already played world and European champions Spain.
Cesare Prandelli's side finished second in Group C with a win and two draws to their name, while England topped their group with seven points.
And 25-year-old Bonucci said: "We have been studying (Wayne) Rooney but England are not just all about him.
"They are a team with massive qualities and they are great going forward as well as in defence. They are a tough side and we are sure that there will be difficulties, but we will study them in the next few days.
"They improved a lot over the last two years."
Spontaneous
Meanwhile, Bonucci was also coy about being nominated as a mentor to Mario Balotelli as they prepare for the last-eight clash at the Olympic Stadium in Kiev.
Bonucci has found himself cast as Balotelli's minder since putting his hand over the striker's mouth during the Azzurri's decisive Group C win over Republic of Ireland after it appeared the Manchester City player looked to be shouting something at the Italy bench.
Like Balotelli, Bonucci has been dogged by controversy this season, having been caught up in the latest Italian match-fixing scandal.
The 25-year-old, who denies any wrongdoing, kept his place in Italy's Euro 2012 squad when others under investigation were left at home.
And asked if that made him an example for Balotelli to follow, he said: "We are two different people. Mario's spontaneous, a young guy.
"But we also had different experience. We had different lives, so you can't really compare players in this way."
Bonucci revealed Balotelli thanked him after Monday's game for halting what may have become "a worse situation".
"Yeah, he said to me thank you for what I did," Bonucci said. "Now he has to be calm and to do his best on the pitch."
Were he to manage that, Balotelli would almost certainly represent the biggest possible threat to England on Sunday.
Bonucci said: "Physically and technically, he can be very dangerous to the England team.
"I don't know yet if he can be in the starting line-up because this is our manager's decision.
"But, if he trains in the proper way, I think he can really be useful to beat England."