Euros live up to Parker's hopes
Scott Parker says Euro 2012 has 'probably been everything I hoped it would be' so far as he prepares to represent England in the last eight.
Last Updated: 22/06/12 3:02pm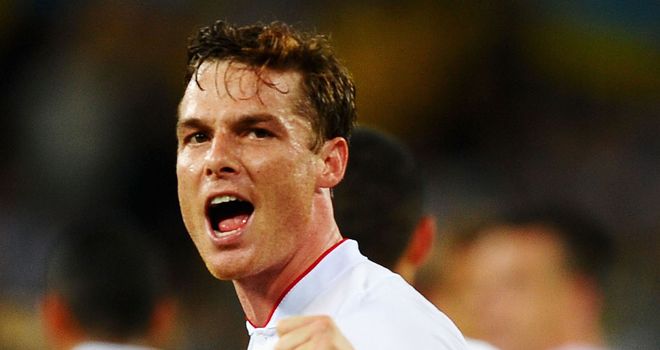 Scott Parker says Euro 2012 has 'probably been everything I hoped it would be' so far as he prepares to represent England in the quarter-finals of his first major tournament.
A European Championship has been a long time coming for Parker, who has proven something of a late developer for club and country.
The Tottenham midfielder, 31, made his international debut almost a decade ago but missed out on one Euro and two World Cup squads before finally getting the call for Poland and Ukraine this summer.
Fantastic
"It has been a while," he added. "At 31, it's my first major tournament.
"It's been fantastic. It always is when you are progressing and winning like we have."
Parker has been central to England's unexpected Group D success, seemingly determined to take his chance on the big stage and knowing there may not be another one, with younger players set to come through in time for the 2014 World Cup.
It was far from certain he would be fit for Euro 2012, a niggling Achilles injury threatening to curtail his involvement even after he arrived in Poland and Ukraine.
"I feel fine," Parker said as he prepared for his fourth game in less than a fortnight, Sunday's crunch quarter-final against Italy.
"I had a good rest towards the end of last season that rejuvenated me a little bit.
"Coming out of a long season, I have not played as much towards the end of it. Hopefully, it'll help push me through."
Parker's all-action performances as West Ham captain saw him emerge from the international wilderness last year.
He carried that into an England jersey but even he has been eclipsed at Euro 2012 by midfield partner and Three Lions skipper Steven Gerrard.
"Steven has been fantastic since we've met up," Parker said. "He is a leader that does his talking on the pitch in the way his football does a lot of talking.
"I am thriving in playing alongside him. He is someone who I have always looked up to and he is a fantastic player."
Gerrard has managed to set up three of England's five goals in Poland and Ukraine, despite playing in a deeper anchor role alongside Parker.
"When you have the qualities and the abilities of Steven, you can adapt pretty well and I think you are seeing that now," Parker said.
"He's obviously got a bit more of a defensive role but, in saying that, he has produced some great assists since he's played.
"So I think he has got the all-round game really."
Penalties
Penalties have been a huge talking point in the build-up to England's first knockout game but Parker's name may not be the first on the list to take them.
"I have not taken many penalties in my career - I think I have only taken one," he said.
"I did score, yeah. I think it was in the cup for Charlton.
"It's not something I am familiar with.
"At the same time, with the preparation and planning that goes into it before the weekend, I'm sure if needs be, I'll step up."