Sagna backs Nasri
Bacary Sagna has rushed to the defence of his former Arsenal team-mate Samir Nasri as French football chiefs prepare to discuss his future.
Last Updated: 26/06/12 2:15pm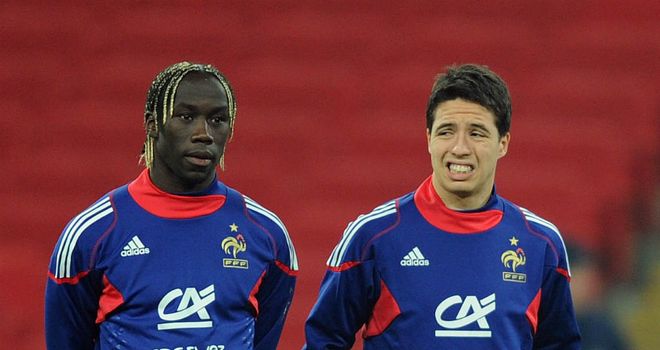 Bacary Sagna has rushed to the defence of his former Arsenal team-mate Samir Nasri as French football chiefs prepare to meet and discuss his international future.
The Manchester City midfielder was reportedly at the heart of the bitter infighting that wrecked France's Euro 2012 hopes.
It brought back memories of their appalling World Cup campaign in South Africa in 2010 that ended in disgrace amid reports of players striking in protest at their unpopular coach Raymond Domenech.
Laurent Blanc replaced Domenech and seemed to have brought stability to the squad as they arrived at the European Championship unbeaten in 21 games.
But a defeat by Sweden in their last group game before limping out of the tournament with a lacklustre performance against Spain seemed to have opened old wounds.
Nasri has been accused by the French media of being the main troublemaker and reports claim he could face a two-year ban after a foul-mouthed clash with a journalist.
Newcastle's Hatem Ben Arfa was also reported to have disagreed vocally with Blanc along with Arsenal target Yann M'Vila and Jeremy Menez.
Regrettable
"This is a sensitive issue and I was not there but I know when something does not please Samir he speaks his mind," Sagna told L'Equipe.
"He can have a violent reaction but you have to share your responsibilities. When someone attacks the press it will not go away.
"With the excitement of the game and everything that was written about him it was perhaps not the right time to respond. He should have kept his cool but it weighed on him.
"The Euros had not even started and the press had already criticised him. Everyone is human."
Sagna was not part of Blanc's squad as he is still recovering from a broken leg he received while playing for Arsenal in May but fears the team will spend the summer kicking themselves for not fulfilling their potential - again.
"It's a shame," he added. "We had the potential to go further. People would take me for a madman for saying that, but I saw a team that could go to the final. I had faith in them.
"I was especially annoyed to hear the stories going around. That's regrettable - in the end it gives a bad image of us, the team. It's a waste of a competition. Everything was avoidable.
"It's a shame that this never leaves the team alone."