Hutton - I'm staying
Kyle Hutton believes he can take advantage of the high-profile departures at Rangers to play more games for the club.
By Rebecca Stephenson
Last Updated: 27/06/12 5:45pm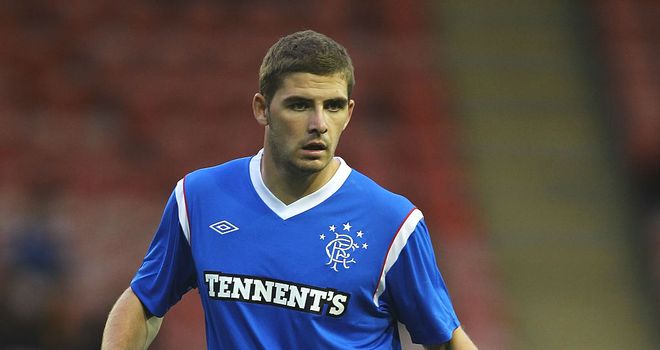 Kyle Hutton believes he can take advantage of the high-profile departures at Rangers to play more games for the club.
The midfielder is the third player to reveal he will be reporting for pre-season training, after Lee Wallace and Lee McCulloch announced their decisions to stay earlier this week.
The trio are very much in the minority, after eight of their team-mates made it clear they would not be returning to the club after they refused to transfer their contracts to Charles Green's Sevco company.
But Hutton hopes he can turn the decisions of his colleagues into a positive for himself.
Chance
"With the other players that are leaving, I look upon what has happened as something which presents me with a chance to play more games for the club," said the man who spent last season on loan at Partick Thistle and Dunfermline.
"Like everyone else in the first-team squad, I've had a good long, hard think about the situation.
"As sad as everything which has been going on is, this is still Rangers we are talking about and it's an extremely attractive team for people to play for.
"For me, it is in my best interests to stay where I am and to try to establish myself in the side next season.
"I'm still a young player who is learning his trade and hopefully I've got a long career ahead of me so this is a great place for me to keep learning."
But Hutton is still unsure which league he will be 'learning' in. It looks very unlikely that Green's club will be accepted into the SPL, but whether they are allowed to take a place in the second tier or even committed to life in the Irn-Bru third division remains to be seen.
But the 21-year-old told the club's official website the destination of the club does not concern him.
He said: "I enjoyed it in the First Division with Partick last season.
Tough
"If that's where we were to end up playing, I'd know what to expect and it's a tough league.
"For the players who are remaining with Rangers, it's still a good level to play at and it'll be a bigger test for us than some might think should we go into that competition.
"Being a First Division player definitely toughened me up and my mentality changed for the better.
"I learned to appreciate some grounds aren't as fancy as others but you still need to dig in and get results wherever you go. That has helped me a lot.
"Whatever league we are in, there will be pressure on us to win it and the players who are at Ibrox will rise to that."