Coe to offer Becks role
David Beckham will be offered an Olympics role by Sebastian Coe after his Team GB dreams were dashed.
Last Updated: 29/06/12 10:13am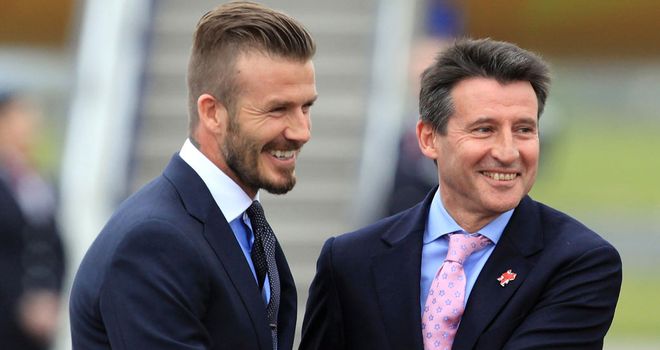 David Beckham will be offered a role for the London Olympics by Sebastian Coe after the midfielder's dreams of playing for Team GB were dashed.
Beckham, 37, spoke of his bitter disappointment after confirming he misses out - Ryan Giggs, Craig Bellamy and Micah Richards are set to be the three over-age players in the 18-man squad to be named by coach Stuart Pearce.
London 2012 chairman Coe will discuss with Beckham what role he could play for the organisation during the Games after he played a key role in securing the Olympics for London back in 2005.
Lord Coe said: "Team selections are up to the coaches and managers of each sport.
"David has been an extraordinary supporter, probably our number one supporter, of the Games from the very beginning and is keen to continue his enthusiastic support right to the end. He really gets this.
"He is from east London and knows how important the Games and sport are to young people.
"He is a great role model and we are lucky to have such an advocate. I will be talking to him about a Games time role."
Cleverley
Meanwhile, neither Manchester United's Chris Smalling nor Tottenham's Kyle Walker will be in the squad due to the injuries that ruled them out of England's Euro 2012 matches.
But Tom Cleverley, the 22-year-old United midfielder who also missed Euro 2012 through injury, is expected to be named in the squad.
Beckham is understood to have been told by Pearce that he had chosen to pick Manchester City defender Richards instead because he wanted stronger defensive options.
The need for defensive cover was exacerbated after Smalling and Walker were both ruled out.
Other under-23 players who are almost certain to be confirmed by Pearce include Arsenal's Aaron Ramsey and Tottenham's Gareth Bale.
Jack Rodwell's injury problems also mean the 21-year-old Everton midfielder is set to miss out on the Olympics but Birmingham goalkeeper Jack Butland is expected to be named despite the 19-year-old being the number three keeper for England at Euro 2012.
No other member of the Euro 2012 squad will be at the Olympics.