Wallace issues rallying call
Lee Wallace believes Rangers' remaining players must roll up their sleeves and get the club back to the top.
Last Updated: 29/06/12 8:01pm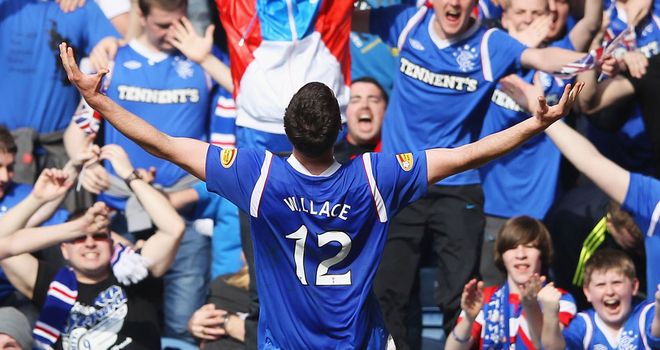 Lee Wallace has issued a rallying call amid uncertainty over the league status of the newco Rangers club.
Wallace was one of the first Rangers players to commit his future to the club by accepting the transfer of his contract to Charles Green's Sevco company.
Thirteen players turned up for the first day of pre-season training, with Northern Ireland Under-21 defender Chris Hegarty on Friday signing a one-year deal to make it 11 senior players under contract.
The players do not know which league they will play in, although it appears certain it will not the top flight with St Mirren on Friday making it seven Scottish Premier League clubs to confirm they will oppose the newco application, while Motherwell are also set to follow.
Scotland international Wallace, who signed a five-year contract when he joined Rangers from Hearts in August last year, expects tough times but he has vowed to help the club back to the top.
The 24-year-old told the club's official website: "This is a rebuilding process and I'm saying that I'm happy to be part of it, as are the guys through in the dressing room now.
"I think that's going to be the most important thing for us. We need to roll our sleeves up and soldier on. That's exactly what we need to do.
Tough season
"There might be a tough season ahead for us but that's what you expect as a footballer. You come up against obstacles that you don't want to happen but you get on with it.
"You roll your sleeves up, you are professional and you get down to business. We might be down just now but we'll certainly not be there for long and we'll get back on track.
"This is a new chapter for us but that is all and it's business as usual as far as I'm concerned. It's our job as professionals to continue doing what we do."
Wallace added: "We need to stay tight as a unit and as a family and just move on as we look to get us back to where we should be.
"Last season when we went into administration, we almost had a run of four defeats in a row at Ibrox and I don't think that had ever happened before.
"Even so, we'd get to the final whistle of games and when the fans were still applauding us despite our results, it was massive. Their pride in us as a support was fantastic."
Membership application
Meanwhile, the Scottish Football Association on Friday night confirmed it had received the requested information from Green's Sevco consortium over their membership application.
Green submitted a letter of application to the SFA last Friday in a bid to assume Rangers' membership but the governing body required formal documents relating to the company, requirements on fit and proper officials, and plans for the club.
It was agreed that Green, whose group purchased the business and assets of Rangers for £5.5million, would provide the details before this weekend.
An SFA spokesperson said: "We can confirm that we have received, through our lawyers, an information pack from Sevco Scotland relevant to their membership application, which we will review in early course."