Alba welcomed to Barca
David Villa has welcomed Jordi Alba to Barcelona and has described the full-back as a 'spectacular player'.
Last Updated: 29/06/12 9:01pm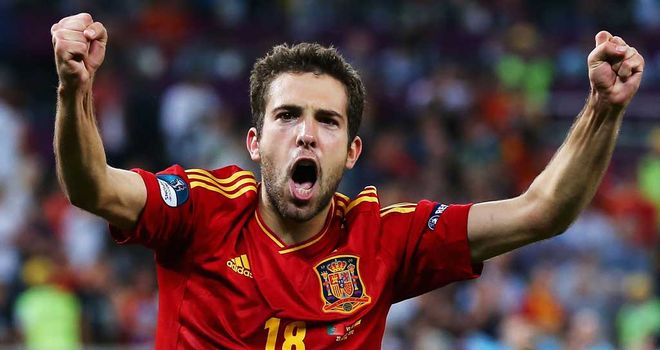 David Villa has welcomed Jordi Alba to Barcelona and has described the full-back as a 'spectacular player'.
The Spain left-back's €14million (£11m) transfer to Camp Nou was completed on Wednesday and has taken the number of Barcelona players in the country's international squad to eight.
Injury prevented Villa from featuring at Euro 2012, where Spain are waiting for Sunday's final against Italy, but he is still excited about a reunion at club level with his former Valencia team-mate.
He told Mundo Deportivo: "I speak regularly with Jordi. He strikes me as a good guy and he is a spectacular player that had always played as a winger until (Unai) Emery moved him to full-back and he has been incredible.
"He was also surprised at his performance because at the start he didn't like it a lot, but now he is happier as a full-back than a winger. He has spectacular offensive movement.
"Moreover, he maintains his position defensively and can do a great deal of damage to the opponent's defence despite starting from so far away. He is a player with incredible physical conditions. He is very young and still has a great trajectory ahead of him."
Competitive & aggressive
Villa's sentiments were echoed by a number of Alba's international and now club team-mates after another sterling performance in Spain's semi-final victory over Portugal.
"He has the Barca level and the quality to play for a big club," said Gerard Pique. "When we faced him he always seemed very good to me, but here in the national team he is flying, he is a fantastic player.
"He defends well, attacks even better, knows when it is necessary to maintain his position, goes forward when it is the right time and can cross and shoot."
Xavi is also a fan of the 23-year-old, who had been part of the Barca Academy until he was released by the club in 2005.
"He is a spectacular footballer and 10 out of 10 as a guy," said Xavi. "Moreover, he is a local boy, he was raised with Barcelona, he is competitive, aggressive, very good defensively and sees the game very well.
"I have seen him play a lot and he is prepared. And when you put him with better footballers, he will be even better."